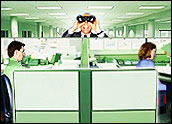 A federal judge in Houston and the U.S. Attorney's office for that region are wrangling over just how much information the government can garner from a phone call without a warrant for a wiretap.
The case involves a request by U.S. Attorney Donald J. DeGabrielle Jr. for a pen register and a trap and trace device to "record or decode dialing, routing, addressing, or signaling information, including 'post-cut-through dialed digits.'"
It's those post-cut-through dialed digits that have the U.S. Attorney and District Court Magistrate Stephen W. Smith at odds.
Must Meet Tougher Standards
Post-cut-through digits are numbers dialed after a phone call is made. In telephone banking, for instance, it could be a PIN (personal identification number).
If the government wants to gather post-cut-through information, according to Judge Smith, it will need to meet stricter judicial standards than those used to authorize pen registers.
The U.S. Attorney has requested that the judge reconsider that ruling.
"You can't get post-cut-through digits with a pen/trap order," Lee Tien, a staff attorney for Electronic Frontier Foundation (EFF), told the E-Commerce Times. "If you want to get those kinds of digits, you need a wiretap order, just as if you wanted to listen to a conversation."
The judicial standards for issuing a wiretap order are higher than those for authorizing a pen/trap.
The San Francisco-based EFF and the Center for Democracy and Technology (CDT) in Washington, D.C, have filed "friends of the court" briefs in the Texas case at the request of Judge Smith.
Law Changes
Congress amended the existing law in 1994 to require agencies using pen/trap devices to screen out the capture of post-cut-through data, according to CDT staff attorney John Morris.
"That really didn't work," he told the E-Commerce Times, "because no one was able to come up with technology to discern if the digits punched into my phone were my bank account number or some phone number that I wanted to connect to."
In 2001, he continued, Congress amended the law again to specifically bar the use of the authority for a pen/trap device to capture post-cut-through data.
"We think the law is very clear in this area, but we think the judiciary is only just now realizing it," Morris contended. "It's a situation where the federal judiciary is slowly beginning to appreciate that Congress changed the law in a relatively small but important way."
Incidental Collection Allowed
However, U.S. Attorney DeGabrielle doesn't believe the law is as clear in this area as Morris maintains.
"Congress did not intend to completely bar the Government from receiving post-cut-through dialed digits when content might be inadvertently or incidentally collected and technology is not reasonably available to filter out the content," states a brief filed with the court by DeGabrielle's office, a copy of which was made available to the E-Commerce Times.
The brief also points out that the Justice Department has adopted rules to prevent the misuse of post-cut-through data incidentally captured with a pen/trap device.
"When over-collection does occur despite the use of reasonably available technology," the brief notes, "no affirmative investigative use shall be made of that information except to prevent immediate danger of death, serious physical injury, or harm to the national security."
Unusual Opportunity
Proceedings to obtain pen/traps and wiretaps are secret proceedings, Morris explained, and necessarily so — if you're going to tap someone's phone, you don't want them to know about it.
That means that judges ordinarily hear arguments from only one side — law enforcement — in these cases. In this case, however, after the government requested reconsideration of the matter, the judge decided to solicit other points of view on the issues raised in the case.
"This is a fairly unusual situation where the public interest community is able to participate in a legal case that involves a wiretap," Morris said.