Jawbone on Wednesday announced its new UP2 and UP4 fitness bands, based on designs that were reworked "ounce for ounce," according to the company.
The US$99 UP2, which launched Wednesday, tracks activities and monitors the quality of sleep, doing so for up to seven days on a single charge. All of the essentials are covered, from steps taken and calories burned to hours slept and recommendations on the best times to grab some shuteye.
With the backing of a smartphone running Jawbone's Smart Coach app, UP2 users can log their meals by scanning bar codes and selecting dishes from a database of restaurant menus.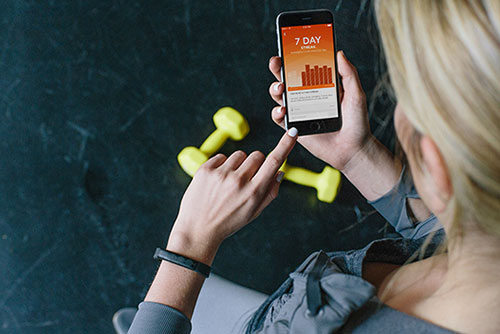 The $199 UP4 smartband, scheduled for release this summer, complements its biometrics-tracking with a mobile payment capability powered by American Express.
Its near-field communications chip lets shoppers easily part with whatever funds it takes to cover their purchases. With the UP4 tied to an American Express account, wearers need only raise their wrists to NFC terminals and tap the payments symbol on the fitness tracker.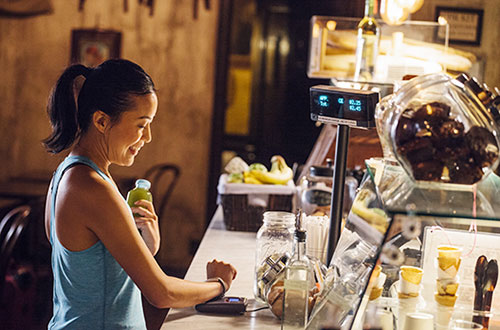 The Partnership
Many American Express card members wear and love devices in Jawbone's UP series, said American Express spokesperson Erin Maxwell. The company's partnership with Jawbone gives card members more flexibility in how they can use their cards.
"What we're doing with this launch is bringing our proprietary technology to life with a slick and seamless payments feature that makes it easy for our card members to shop and be on their way fast," Maxwell told the E-Commerce Times.
American Express, an Apple Pay launch partner, has been seeking to put its might behind "transformative and slick" methods of payment, she added. "Overall, we see simplicity, ease, and seamlessness of payments for card members, regardless of form factor, to be the future of payments and American Express."
The partnership helps American Express establish "top of wallet position," and will be hard to displace once a consumer stores the card, noted Mark Flamme, a partner in Strategy&. Meanwhile, the deal ties Jawbone to a respected financial service.
"I'd be surprised if, using the ApplePay precedent of card issuers sharing interchange, Amex isn't paying a bit of interchange 'to play,'" Flamme told the E-Commerce Times.
Beyond the Alliance
While he isn't convinced the UP4 and its NFC tech have mainstream appeal just yet, Flamme noted that the upcoming smartband solves several pain points in the wearable tech industry.
"What becomes intriguing is if the app can expand to include authentication, perhaps biometrically, and carry insurance information," he said. "Now you could use the app to contactlessly check in at a physician, buy prescriptions at a pharmacy, etc., with only the bracelet and an app."
The mainstream may not be quite ready to fully embrace mobile payments, but developers have been seizing every opportunity to innovate in the space. That's exactly what partners request of Matchup, a platform that turns fitness activities into workplace challenges, said Anthony Knierim, the company's COO.
"What we've been seeing is that our partners are looking for new ways to make devices integral parts of everyday life," he told the E-Commerce Times.
For partnerships like American Express and Jawbone's to flourish, device manufacturers will have to keep the locks off the doors and let the developers in, Knierim maintained, as Jawbone can't be everything to everyone.
"Opening up to third-party developers and giving them the ability to create different types of apps, that will make things easier for end users," he said. "The rate of innovation of at Jawbone, without having that, will be much slower than the open market working on an open source device."