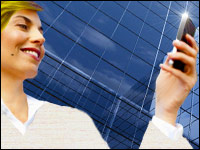 Why would venture capitalist firm Andreessen Horowitz lead a $15.5 million B round of funding for a company that's been working in stealth mode since 2008 on a technology it won't showcase until 2013?
Because that company, ItsOn, was cofounded by a couple of former Cisco executives Greg Raleigh and Charles Giancarlo. Raleigh has taken the helm as ItsOn's chairman and CEO, while Giancarlo serves on the company's board.
Raleigh worked on MIMO wireless technology, which is used in 4G systems; and Giancarlo led Cisco's product development and management activities for 10 years.
Why the secrecy about the technology, and why is it taking so long to come to market? "We've been trialing with some of the major carriers, [but] can't say who for now, perfecting the product and waiting for the market to be ready for us," ItsOn spokesperson Joe Volat told the E-Commerce Times.
"We're launching consumer services next year in partnership with a major carrier partner and have been asked to not disclose too many product features and exact details."
About ItsOn's Technology
ItsOn's building direct-to-consumer services and cloud-based solutions.
Marc Andreessen, cofounder and partner at Andreessen Horowitz, described ItsOn's technology as the ultimate usage-based model of the future.
ItsOn developed its cloud-based SmartServices platform three years ago, and this technology will provide 3G and 4G wireless consumers and enterprise business managers with complete real-time visibility over their voice, text and data usage, ItsOn says. Mobile service users can select exactly which mobile services they need and how much they want to spend.
More details will be released after the Consumer Electronics Show, which will be held in Las Vegas in January, Volat said.
Giving Businesses Some Love
ItsOn's SmartServices platform will provide complete flexibility and real-time service customization to mobile operators and service providers. Businesses will be able to provide services targeted to specific user demographics and device types with minimal development time or market risk, cutting go-to-market times for these service deployments from years to days. Companies partnering with ItsOn will strengthen brand awareness, improve targeted app placement and app service sponsorship, the company claims.
The firm is offering a turnkey solution to mobile operators and mobile device OEMs looking to launch highly differentiated services leveraging SmartServices. It will manage everything from initial consumer research through the launch of the customized service.
"[ItsOn] has to target the carriers because consumers won't and don't need to pay for this when you have other companies like Google and Microsoft providing similar solutions," Jim McGregor, president of Tirias Research, told the E-Commerce Times. "Carriers are looking for any way to increase revenue per user so there is a need among carriers for services of the kind ItsOn says it's offering."
The company "needs carriers to bless its solution," Rob Enderle, principal analyst at the Enderle Group, told the E-Commerce Times. On the other hand, the carriers need technology that will help manage data consumption because they "are over capacity and users are getting throttled or are seeing data overage charges, which gets them to switch carriers."
Help for the Consumer?
Despite the focus on carriers and businesses, ItsOn claims its technology will also help the consumer by eliminating over-charging and bill shock. Consumers will be able to select, monitor, control and share all their mobile services as desired from their tablet, PC or smartphone.
ItsOn "offers a unique user experience that puts the consumer in control and lets them get what they want, when they want it with no contracts, restrictive plans or bill shock," the company's Volat asserted. "Consumers in the trials have loved it."
Microsoft has rolled out a similar service in Windows Phone 8, which it publicly announced yesterday — the Data Sense feature. This is a cloud-based technology that compresses Web pages users browse, helps them find WiFi hotspots, adjusts the way Windows Phone 8 devices work when users near their data plan limits, gives users an overall look at the data usage on their devices, and shows how much data each of their apps is using. Data Sense will roll out on mobile carriers' networks, starting with Verizon this fall.
Racing to Beat the Competition
Despite having more than 50 patents and patents pending, ItsOn might be in a race for its life.
"The company is starting to run into major competition," Enderle said, citing Windows Phone 8's Data Sense feature as an example. "It may enter a market already dominated by bigger firms."
Or it will "run up against services from the Internet powerhouses that will push them out of the market," Tirias Research's McGregor said.
One possible outcome might be the company being bought up by "an Apple or Google wanting to catch up and because they need the extra backing," Enderle opined.
Other investors in ItsOn's B round of funding are Silver Lake Partners and SV Angel.