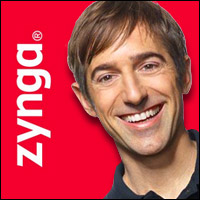 News last week that Zynga founder Mark Pincus had replaced Don Mattrick as CEO, less than two years after vacating the position, sent the company's shares tumbling. The stock price was holding its own on Monday after a rebound on Friday, but the sharp reaction was a clear indicator of investors' concern over the management change.
Pincus' return to the helm sparked concern from investors worried about the company's lackluster earnings. He was known for having a fixation on browser gaming — at least, in the past, when FarmVille and related Ville games were all the rage on Facebook.
Pincus actually never left the company, but after turning over the helm to Mattrick, he seemed far removed from day-to-day operations. Under Mattrick, the company's focus shifted dramatically from browser-based gaming to mobile entertainment.
Mobile grew from 27 percent of Zynga's business to 60 percent during the time Pincus spent under the radar.
Zynga is now a mobile-first company, Pincus said, after praising the outgoing CEO for his efforts in redirecting the organization.
"I am returning to the company that I love in order to accelerate innovation in the most popular categories, like Action Strategy, and strengthen our focus on our core areas, like Invest and Express," he added. "I look forward to partnering with our leaders to intensify our focus on social experiences for the millions of consumers who play our games."
You Can't Go Home Again
It's interesting — but far from shocking — that Wall Street reacted negatively to Pincus' return to the head of Zynga's table, observed Jim McGregor, founder and principal analyst of Tirias Research.
With the exception of Steve Jobs, founders typically don't improve their companies when they reclaim the reins, he added.
"Founders are usually more entrepreneurial," McGregor told the E-Commerce Times. "They have an idea, and they have a focus — but once they take it to a level of maturity, they're really not good at driving the business beyond that. I think that's probably what [Wall Street] is factoring in."
Zynga operates in one of the industry's most competitive markets, he noted — it's hit or miss.
Pincus wants to better leverage Zynga's mobile gaming strengths, but the company may need to scale out as much as it need to scale up, suggested McGregor.
Zynga needs to look at inserting itself into adjacent markets, where the company can take advantage of its expertise and build resilience against competitors, he advised.
"I think [Pincus'] real challenge is trying to find new opportunities for the company," said McGregor. "That's kind of a hard sell right now, especially when you're in the gaming environment."
Things Have Changed
Zynga and other free-to-play champions, like Rovio, haven't been able to recapture the magic that propelled them to prominence in the mobile gaming space. Rovio became successful in licensing its intellectual properties — chief among them, Angry Birds and its spinoffs — but the company still hasn't been able to replicate the success of its early games, noted Yoshio Osaki, senior vice president of IDG.
"For Zynga, they never quite pivoted successfully from social on Facebook's graph to mobile, as well as some other companies like Kabam," he told the E-Commerce Times. "Kabam's a great example of having had most of their revenues tied to Facebook once a upon a time. They transitioned pretty successfully over to mobile."
Although many of the issues facing Zynga, Rovio and Kabam are different, the dominance of freemium, or free-to-play, titles has had a pronounced impact on the mobile gaming market, according to Osaki. The market is driven by hits, and the top five to 10 game studios dominate the market disproportionately — especially when considering the abundance of mobile titles available.
"I don't think that's going to change anytime soon, based on consumer behavior and spending patterns. I think free-to-play has become ubiquitous with mobile app storefronts," Osaki said. "I think most consumers are just used to that model now, which is very different from PC or console retail."
Premium AAA titles — that is, big budget games — will experience a mobile market breakthrough in the next few years, Osaki predicted, as tablets become more powerful.