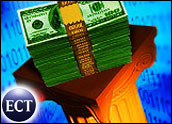 Looking for a franchise opportunity? The World Wide Web is overflowing with Internet-based businesses for sale.
An online search of the term "Internet franchising" will reveal dozens of Web sites promising both online business and franchise opportunities in a variety of Internet-based companies. The listings go on and on. They include the promise of success and fortune for every conceivable type of business.
However, just as prospective franchise signers should not plunk down thousands of dollars based on a newspaper ad, would-be entrepreneurs should also not be too hasty to click their way to online storefront ownership.
Getting involved in an Internet franchise could be riskier than surfing the Web without a firewall. A safer approach is to investigate short-term, renewable partnership affiliations rather than more costly franchises.
"Partnerships work better on the Internet. I don't see why franchises exist," Thomas Harpointner, CEO of AIS Media, told the E-Commerce Times. "Cookie-cutter franchises don't cut it anymore."
What Is Franchising?
According to Franchising.com, franchising is a business strategy for getting and keeping customers. Those who join a franchise use a prescribed method for distributing products and services supplied by the business plan of the franchise company.
Franchising is replete with many misconceptions. Among the biggest is that obtaining a franchise is equivalent to buying the franchise or owning the business. This is not the case.
Franchisees invest their assets in a system to utilize the brand name, operating system and ongoing support, the Franchising.com Web site explains. All franchise participants are licensed to use the brand name and operating system in exchange for paying the initial and monthly franchise fees and other charges specified in the franchise agreement.
Statistics provided Franchise.com claim that in the U.S. there are over 2,500 franchise systems having in excess of 534,000 franchise units. This represents 3.2 percent of total businesses and controls over 35 percent of all retail and service revenue in the U.S. economy.
A Different Approach
Harpointner started AIS Media in 1997 after looking at various business markets. His online business develops, deploys and manages e-business applications and services over the Internet.
He saw lots of companies using a franchise business model and going bankrupt in the process. He favored a partnership with other firms seeking to grow related online business offerings.
"The survival rate with franchising is not as high as with other types of business models and has more risks," he said.
Proprietary businesses such as partnerships have a competitive advantage, Harpointner found. From his view, bad business models do not franchise well.
"Now, [with partnerships] it is a fairly level playing field. We decided against franchising," he said.
Partnerships Over Franchises
In 2002, Harpointner launched channel partnerships through his Web site. Rather than charging partners monthly fees as franchisers must pay, he said his partnership participants share all benefits of being in business without the downsides of a franchise.
For example, those involved in a franchise cannot diversify their business. Instead, they must adhere to the company line.
"No two businesses are alike. Partnerships work better on the Internet," Harpointner said. "Success [online] is based on the ability to market and sell. We see many of our partners discovering the benefits of partnering over franchising."
Drawbacks Involved
According to Harpointner, many entrepreneurs are mislead and confused by Internet franchising. Their business has no physical location and no brand names to boost their business.
Instead, a franchiser's Web site looks like everyone else's site. Plus, there are high royalty fees and monthly franchising fees.
"Why not save that expense by just partnering?" he asked. "We rebate all of our partnership fees back to our partners once they start producing."
In comparison, franchise fees and royalties are never refunded in franchising agreements. Franchising fees can be as high as $10,000 per month, said Harpointner. In addition, franchisees must sign long-term contracts that include default penalties.
Chuck Fuller, senior vice president for marketing development at Entrepreneur.com, views the business-venture capabilities of franchising on the Internet as having both good and bad points. The cost per lead is a lot less on the Internet, but the lead quality it produces often suffers quite a bit.
"The Internet presents considerably more quality issues," he said.
Fertile Networking
Franchising versus partnering on the Internet are not the only options.
There is more opportunity using the Web as a vehicle for more traditional consulting and networking services, said Vincent Thompson, principal at Middleshift. His company focuses on using or creating revenue for Internet businesses by empowering those in the middle-management environment.
"I am not seeing people actually licensing products on the Internet as much as I am seeing pay-for-post activities," he said.
Thompson believes that any time an entrepreneur can use the Web to sell is a good thing. He sees people submitting content to Web sites and participating in Web networking activities. This forms the biggest use for business over the Internet.
After spending seven years at America Online running Internet sales in the western U.S., Thompson's business helps companies learn how to sell products.
There will be more networking on the Web instead of franchising, Thompson predicted. "In earlier years, Internet franchising may have made more sense, but no longer. The Internet has changed drastically since then. Business[es] online need much more than [what] is available through a franchise," he added.
Legal Impact
Fuller noted that the Internet provides access to a variety of franchising opportunities. People considering an Internet franchise need to exercise considerable caution.
"Investing into a business is just like building a house. You have to become qualified for the purchase and the financing," said Fuller.
The Federal Trade Commission (FTC) offers would-be franchisees some protection against fraud. For example, in order to offer distribution franchise businesses, a firm must register the franchise offering with the FTC. The FTC regulates all franchises, requiring a full disclosure that details training, support, fees and purchases, Fuller said.
Also, a franchiser cannot just sign up a franchisee online. By law there is a cooling-off period for the franchisee. Some of the arrangements, from recruitment and research to prequalification, can be handled over the Internet.