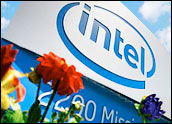 Intel on Tuesday announced it's taking its AppUp app store out of beta, just eight months after announcing the portal at the Consumer Electronics Show in Las Vegas in January.
The store has 450,000 users, Intel claims. Developers must use the AppUp software development kit, and apps can only run on computers with Intel Atom processors. Developers can also create apps for the Meego tablet platform, and Intel has announced a partnership with Adobe that will let app devs use Flash and Air.
Intel will preload the AppUp portal on Samsung notebooks this fall.
The chip giant has also announced a million-dollar development fund to help developers. Further, it has launched a revenue acceleration program for 100 apps it will select by the end of September.
Whether Intel's AppUp store can carve out a market niche for itself — despite trailing well behind the overwhelmingly dominant app stores of Apple and Google and having to fight off competition from Microsoft, Verizon and other players — remains to be seen.
Intel's AppUp Store Efforts
Developers and independent software vendors (ISVs) participating in the Intel AppUp developer program will get the AppUp software development kit (SDK). They have to include the SDK's libraries and tools in their application for it to be validated for AppUp.
The SDK is available now, Intel said. Developers have to pay a US$99 yearly fee which will be waived for "a limited time," Intel said.
Developers can set their own prices for their apps. They'll can get 70 percent of the revenue from every sale and can choose to use some of their revenue for promotion. Alternatively, developers can opt to build and sell application components through AppUp, and they'll get a percentage of the revenue from every app sold that uses their components.
The Intel AppUp SDK will support Meego, which is the love child of Intel's Moblin and Nokia's Maemo operating systems. The current Moblin SDK for AppUp is "MeeGo ready," Intel said, and is upward compatible for Moblin and MeeGo.
Features and functions of the SDK for MeeGo are the same as those for Windows and Moblin. All apps in the AppUp store will be restricted to running on the Intel Atom Processor.
Testing, Upgrades and Other Details
Intel does not support regression testing and suggests appdevs beta test their creations before submitting them to the Intel AppUp store.
The AppUp store doesn't support in-app upgrades now, but it will in future. Currently, all application upgrades must be submitted through the Intel AppUp developer program.
Developers who wish to do so must implement in-app advertising, subscriptions and links to external marketplaces on their own for now because the AppUp SDK doesn't support these features. It will do so in future, Intel said, and when it does, these features must be implemented through the SDK.
Apps in the Intel AppUp store will subject to a movie-like rating system, and pornographic and sexual apps are banned.
Intel did not respond to a request for comment by press time.
Million-Dollar Baby
Intel has launched the Intel AppUp developer program Million Dollar Fund to help developers get into the AppUp store more quickly and easily. The fund is for everyone ranging from students and individuals creating apps to companies of all sizes.
One component of the fund is the Accelerator 2010 program. This will provide funding to software developers and companies looking to speed time to market for innovative apps. Only apps created with the Intel AppUp SDK are eligible unless they are open source apps, which don't require an SDK, Intel said.
The Accelerator 2010 program currently will only fund netbook apps.
Funding will range from $10,000 to $25,000, and developers will hear from Intel within three weeks of sending in their submissions. The fund is available in several countries.
Table of Plenty?
With the AppUp store, Intel's entering a crowded market that's dominated by Apple, and where runner-up Google is catching up fast.
Other well-established contenders include Samsung, whose app store has seen 14 million downloads since June, the Mobiputing blog reported. Other contenders include stores from Verizon, AT&T and other carriers.
Further, the netbook market is being cannibalized by tablets, Barclays Capital has stated repeatedly in recent notes to investors.
Can Intel's AppUp store make any headway when it faces so many disadvantages?
"The reports of the death of netbooks are exaggerated," Andrew Eisner, director of community and content at Retrevo, told the E-Commerce Times. "I still think there's a market for a very low-cost, very portable laptop device with a full keyboard."
Further, Intel may team up with Windows to create another market for apps, and Google TV, which will be powered by the Intel Atom, may open up yet more opportunities, Eisner pointed out.
Putting the ARM on Intel
Intel claims to have strong support for the AppUp store from partners. Acer, Dell, Asus and Samsung have committed to include Intel AppUp portals in their devices in future, Intel CEO Paul Otellini said during his keynote speech at the Intel Developer Forum, where the AppUp store was taken out of beta.
That support may be a factor in the AppUp store's success.
"There's no obvious place to go if you want to buy applications for a PC or a netbook," Al Hilwa, a program director at IDC, told the E-Commerce Times. "So to the extent that AppUp receives investment and marketing dollars, it has a chance at being the place to go for apps for these platforms."
Adobe's support for AppUp is a positive sign because "it gives you some idea of Intel's level of investment behind this," Hilwa remarked.
Won't restricting apps to the Atom platform detrimental to the AppUp store?
"Most of the tablets being built are using ARM chip technologies," Hilwa pointed out. "But this AppUp store is clearly a future play, and Intel probably expects many more tablets to be developed on the Atom. Atom will get some traction in the higher-end segment of tablet devices, especially where compatibility with PCs is at a premium."