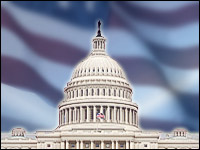 The new Congress is now tackling a flurry of general proposals for comprehensive immigration reform, but only one specific, narrowly focused piece of legislation has already been introduced in the Senate: a plan to vastly increase the number of non-citizens who can pursue jobs and education in the U.S. technology sector.
The bill, titled the "Immigration Innovation Act of 2013," quickly drew support from the IT community.
"High-skilled immigration is a critical component in the broad effort to reform the U.S. immigration system, and this legislation effectively establishes a must-do list to enable U.S. companies to attract and retain the best innovators from around the world," said Ken Wasch, president of the Software and Information Industry Association (SIIA).
"Our companies strongly support efforts to improve the U.S. research ecosystem, including efforts to permit foreign Ph. D. and Masters graduates from U.S. universities in science, technology, engineering, and mathematics (STEM) to remain in the United States," said Grant Seiffert, president of the Telecommunications Industry Association (TIA), in a letter to the Senate sponsors of the bill. "In addition, we support your efforts to increase the allotment of H-1B visas and to improve STEM education efforts in the United States."
Visa Reform and High-Tech Funding
The bill, also referred to as "I-Squared," focuses on three areas related to high tech talent: the expansion of "employment based non-immigrant" permits, known as H-1B visas; increased access to temporary residence "green cards" for high-skilled workers, and the utilization of fees from the issuance of visas and green cards to promote American worker retraining and education in STEM-related activities.
A closer look at the bill's sections:
H-1B Visas: The H-1B program allows U.S. employers to temporarily employ foreign workers in specialty occupations for an initial period of three years, extendable to six years. The Immigration Innovation Act would increase the limit for such visas from 65,000 to 115,000. If the pace of applications exceeds the cap within certain specified periods, the allotment will automatically be increased with an eventual hard cap of 300,000. The bill would facilitate the mobility of skilled foreign workers by removing current impediments and costs related to changing employers. It would also authorize employment for dependent spouses of H-1B visa holders.
Green cards: The bill would increase the number of available employment-based green cards by reaching back to include green card allotments that went unused in prior years and exempting certain categories of applicants, such as STEM advanced degree holders, from counting against the annual cap. The act provides green card eligibility to "persons with extraordinary ability," and "outstanding professors and researchers," as well as to dependents of employment-based immigrant visa recipients. Current country of origin allocation limits would be eliminated.
STEM funding: The fees payable to the U.S. government for H-1B and green cards would be increased. Fees vary for the H-1B documents, but the bill sets the basic fee at $2,500 per employee for firms with more than 25 workers. Green card fees would be raised to $1,000 per employee. According to an Intel analysis, the bill raises the current fee structure by 40 percent. Portions of the federal fee revenue would be channeled to a grant program to promote STEM education and worker retraining to be administered by state governments. The revenue could amount to $300 million per year, according to Sen. Amy Klobuchar (D-Minn), a co-sponsor of the bill.
President Obama touched on the high tech employment issue in his second inauguration speech.
"Right now, there are brilliant students from all over the world sitting in classrooms at our top universities. They're earning degrees in the fields of the future, like engineering and computer science. But once they finish school, once they earn that diploma, there's a good chance they'll have to leave our country. Think about that," he said. "If you're a foreign student who wants to pursue a career in science or technology, or a foreign entrepreneur who wants to start a business with the backing of American investors, we should help you do that here."
Costs and Benefits for Tech Sector
Support for the bill by the IT community underscores the need for skilled talent, as well as the readiness of firms to absorb the cost of visa/green card fees and associated legal charges.
The fees could be considered a cost of doing business, or they could be viewed as an investment.
"We view it as both. The fees are not insignificant and so they give reassurance to some that H-1Bs will not be used to provide a 'cheap labor' alternative to U.S. workers," David LeDuc, senior director of public policy at SIIA, told the E-Commerce Times The fees and processing costs are already so high that it usually costs companies significantly more to hire H-1Bs than U.S. workers."
The fees and charges for obtaining skilled workers must also be balanced against the cost for businesses of operating without essential talent.
"When considering H-1B fees, we think it's most important to remember that the current annual limit on the number of H-1B visas, along with the per-country restrictions, mean that companies simply can't hire the workers they need or that hiring is delayed. This imposes significant costs and inefficiencies on business operations, and it's part of why the whole system needs reform," Danielle Coffey, general counsel and vice-president of public policy at TIA, told the E-Commerce Times.
Congressional Hurdles and Outlook
How the bill fares in Congress may depend on how an overall comprehensive package of immigration reforms is handled.
"The Immigration Innovation Act could stand on its own, but in the current political situation it is unlikely that immigration issues will be handled piecemeal," Bob Sakaniwa, associate director of advocacy at the American Immigration Lawyers Association, told the E-Commerce Times. "The better prospect is that it will be included within a comprehensive package and its fate will be tied to what Congress does on the overall immigration reform effort."
The history of congressional immigration debates also indicates that the IT issue should be part of a comprehensive reform effort, LeDuc added. "As much as we might like, or it might seem practical to enact various reform initiatives independently, that's not a political reality at this time."
The momentum now exists for comprehensive immigration reform, and issues related to highly skilled workers have already made their way into bipartisan legislative language.
"We know that the attention of Congress will now be fully focused on achieving comprehensive reform and a complete bill in the next few months," Coffey said. "We're hoping that they succeed, and that's where our focus is."