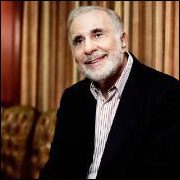 Billionaire corporate raider Carl Icahn on Monday dropped his attempt to push Apple into repurchasing US$50 billion-worth of its stocks, after months of effort.
The move follows a recommendation against his proposal made Sunday night by proxy advisory firm Institutional Shareholder Services, Icahn said in a letter to Apple investors.
Apple already has repurchased $14 billion-worth of shares, and ISS predicted it would buy back another $32 billion-worth. Those factors led Icahn to drop his proposal, he said.
"It is our expectation that [Apple CEO] Tim [Cook] and the board continue to exhibit this behavior as fiduciaries to the shareholders since they clearly seem to agree that our company continues to be extremely undervalued," Icahn stated.
Icahn is "selling, and at a higher price than what he paid," Barry Randall, Crabtree Technology model manager on Covestor, told the E-Commerce Times. "It's what he does — and it's almost certainly why he's dropped his non-binding proposal for the $50 billion share repurchase."
The Rest of Carl's Reasoning
Cook's confirmed plan to launch new products in new categories this year, in addition to an exciting product road map with respect to new products in existing categories, left Icahn "extremely excited" about Apple's future.
"We all share a common optimism with respect to the company's bright long-term future," he wrote.
Still, the raider has his reservations: "Even though [Apple] has in place one of the largest buybacks in history, we agree with ISS that this effort seems like bailing with a leaky bucket when given the scale of the company's cash reserves," he said.
Apple is sitting on a pile of nearly $160 billion in cash and cash equivalents.
Icahn's Unremitting Efforts
Only last month, Icahn bought another $500 million-worth of Apple shares, to boost his total holdings in the company to about $3.6 billion.
That followed a Twitter bombardment urging Apple to repurchase more shares.
Prior to that, Icahn had written to Cook suggesting Apple raise its planned goal of repurchasing $100 billion worth of shares by 2015, to $150 billion.
In late November, he filed a non-binding proposal for a shareholder vote on the larger buyback. He withdrew that proposal Monday morning.
Going Down the Wrong Road?
"I think both Icahn and ISS are totally wrong," Trip Chowdhry, managing director of equity research at Global Equities Research, told the E-Commerce Times.
"Tim Cook and the board have been lazy, complacent and sleepy," Chowdhry continued. "Apple has not launched a new product in the past two years."
The iPad mini and the iPhone 5s are "just gimmickry," Chowdhry said. Apple "needs to come up with completely new products that create new industries and that will make the stock go up, and they need to do that in the next six weeks. Why six weeks? Because Steve Jobs used to deliver the iPhone in February and launched the iPad in March."
Crazy Like a Fox?
Perhaps the share buyback really is a strategic move, mused Mukul Krishna, senior global director for digital media at Frost & Sullivan.
"The way I see it, you do a buyback at a lower rate, and once your new products hit the market, the value of your shares goes much higher and that gives you more of a cash pile," Krishna told the E-Commerce Times.
However, Apple "will have to come up with something that's totally stunning," Krishna warned, or "a new product category that takes everyone by storm."