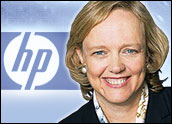 HP's problems following its 2011 purchase of Autonomy for US$11.1 billion are getting worse.
Various documents and internal emails indicate HP knew about the existence of loss-making hardware sales Autonomy allegedly used to bolster its revenue figures well before May 2012, when HP claimed to learn about them from a whistleblower, the Financial Times reported.
In response, former Autonomy CEO Michael Lynch reiterated that Autonomy was open and above-board about its accounts, and suggested HP CEO Meg Whitman resign.
"While HP eventually learned that a portion of Autonomy's revenues were related to hardware sales, we knew nothing of the accounting improprieties, misrepresentations and disclosure failures related to such sales until after a senior Autonomy executive came forward and HP conducted an extensive investigation," HP spokesperson Howard Clabo told the E-Commerce Times.
The purchase cost HP $8.8 billion in writedowns and led accusations by HP that Autonomy had, in effect, cooked the books. Regulators in the United States and the UK are investigating the matter.
The Paper Chase
Autonomy CFO Sushovan Hussain emailed Lynch three weeks before the end of the fiscal year in 2010 saying revenue "fell away completely" and urging "really radical" action.
The documents indicate Autonomy's auditors, Deloitte, signed off on some of the deals HP is concerned about.
Some of the audit packs that acknowledge extensive hardware sales by Autonomy reportedly were available to HP management after the acquisition.
Information Is Not Knowledge
HP executives were included in communications referring to the loss-making hardware sales before May 2012, when it claims the whistleblower came forward, the FT reported.
Whitman received an email Oct. 26, 2011, that cited difficulties Autonomy was having in selling HP hardware and that referred to its previous sales of Dell hardware.
"Our investigation has shown that Autonomy often resold generic hardware at a loss in the last few days of the quarter with the sole purpose of masking its real financial performance," HP's Clabo remarked. "In addition, Autonomy engaged in improper transactions with certain value-added resellers to create the appearance of software licensing revenue at the end of each quarter."
In some cases, these improper transactions "were used to accelerate revenue, and on numerous occasions, these were fabricated transactions with no real end-user," Clabo said.
Business as Usual?
Suspicions about Autonomy have been floating around at lease since 2009, when UK analyst Paul Morland reportedly wrote a note warning investors about the company.
Autonomy apparently pressured the managers of analysts who wrote negatively about it to shut them up, forbade company staff from speaking to them, and barred them from attending meetings on quarterly financial results.
"HP had just lost one CEO, Mark Hurd; its current CEO Mark Apotheker was running all over the place trying to avoid being served by Larry Ellison — who sought to subpoena him in a lawsuit between Oracle and SAP, where Apotheker had previously been CEO — and Whitman was new to the board at the time," Rob Enderle, principal analyst at the Enderle Group, told the E-Commerce Times.
"They were trying to get this [Autonomy] deal done. They were convinced someone was trying to buy Autonomy from under them, and they were in a panic," Enderle continued. "HP should not have been making acquisitions at that time."
Corporate Infighting Kills
It's rumored that some HP executives may have sought to sabotage Whitman's appointment as CEO by concealing negative information about Autonomy.
"If nothing else, the reports suggest a significant lack of internal transparency at HP," Charles King, principal analyst at Pund-IT www.pund-it.com, told the E-Commerce Times.
It's hard to predict how the latest revelations will impact HP, but "if it's found to be truly culpable, it would result in a huge PR black eye," King suggested, and "vulnerable to litigation."