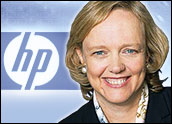 HP on Monday announced plans to separate its major business lines into two separate companies, possibly acquiescing to long-standing shareholder pressure to do so.
One, HP Inc., will offer PCs and printers; the other, Hewlett-Packard Enterprise, will focus on IT infrastructure, software and services.
HP CEO Meg Whitman will be the president and CEO of HP Enterprise, which will be chaired by Patricia Russo, lead independent director of HP's current board of directors.
Don Weisler, executive vice president of HP's printing & personal systems division, will be the president and CEO of HP Inc., and Whitman will be the non-executive chairman of its board.
The split will let HP "more aggressively go after the opportunities created by a rapidly changing market," Whitman said.
The equity market's response has been tepid, said Joseph Pastore, professor emeritus at Pace University's Lubin School of Business.
"That speaks to a sense that observers see the move as a repair to the structure of the firm, not an immediate gain in competitive advantage," he told the E-Commerce Times.
Who Does What
The companies will be about the same size, each with more than US$50 billion in annual revenue, according to The Wall Street Journal.
The split is scheduled for completion by the end of FY 2015 — that is, October of next year. The transaction will be tax-free to HP shareholders.
HP Enterprise will focus on the cloud, big data, security and mobility, and it will leverage HP Financial Services.
Meanwhile, HP Inc. will invest in growth markets such as 3D printing and new computing technologies.
HP painted the move as part of the five-year turnaround plan launched by Whitman when she was made CEO in 2010, and positioned it as a competitive move.
However, the idea "has been kicked around for years," Ronald Gruia, director of emerging telecoms at Frost & Sullivan, told the E-Commerce Times.
Whitman, in fact, dismissed the idea of a split three years ago.
Leaner, Meaner HP Twins?
"Maintaining a heavy B2C focus along with B2B under one roof is a burden that almost none of [HP's] competitors in the big data and analytics space, save Microsoft and Adobe, has had to shoulder," said Jeff Cotrupe, big data and analytics industry director at Frost & Sullivan's Stratecast service.
"Creating Hewlett-Packard Enterprise with Whitman at the helm as a separate entity from HP Inc. will [let] HP … focus more effectively on B2B requirements, particularly in the big data space," Cotrupe continued, adding that HP is "a top 20 solutions provider" in big data and analytics.
The changes will see HP trim its workforce by another 5,000 on top of the 45-50,000 it previously announced, 36,000 of whom already have been let go.
Where HP Might Go From Here
The split is not likely to impact competition "to any great extent" in the near term because it "was a forced choice … largely in response to stockholder interest, not strategic and competitive interest," Pace University's Pastore maintained.
It's not clear how well the split positions HP in the cloud and mobile sectors, which are "already highly competitive with a couple of very strong players in terms of brand and wealth," Pastore said. "It's not easy to play catch-up in that setting."
Cisco and Amazon lead in cloud infrastructure hardware and software, and cloud infrastructure services, respectively, according to Synergy Research Q2. IBM and Microsoft have a strong presence.
"Spinning off the printing business makes sense because it's a cash cow for HP," Frost's Gruia said, "but the execution is fundamental, or there could be negative winds that could blow back to HP."