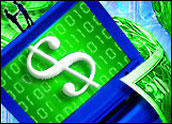 My friend Kevin Dart has always had an eye for English antiques. In fact, he regularly makes a pilgrimage to mother England to buy unique or hard-to-find pieces. Aside from working his "day job," his avocation is selling these pieces for a profit back in the U.S.
While this task of hauling or shipping many heavy objects might seem daunting and laborious, Kevin and his partner, Dan, found the selling process the most cumbersome — until recently.
With the advent of the Internet, sites like eBay have made it easy to sell anything and everything. Unfortunately, Kevin and Dan would be classified as very "late comers" to the Internet. For years, they swore off the hideous beast called the computer and only had limited knowledge of its power. This ambivalent attitude changed a couple of years ago when Kevin discovered eBay.
Web Truly Ubiquitous
Why am I telling you all this? Because there are millions of small businesses that need to use the Web but are perhaps afraid of just how much knowledge they would need in order to use it effectively.
It just happens that Kevin has come to love Web sites like eBay since he discovered it. Specifically what he loves is the way the site makes it so easy to post items that he wants to sell, and the entire transaction process is well thought out — everything from uploading photos to receiving payment. It has truly made him a convert to the Web.
Indeed, if even my technophobic friend Kevin can embrace what the Internet can offer, I now firmly believe that the Web is truly ubiquitous.
However, while the efficiencies and cost benefits are very attractive, many who are just starting out often overlook the Web as a viable channel. They are often wary of what it might take to operate a smooth running and highly reliable Web site.
Large enterprises like eBay can afford to invest a significant amount of capital in the set up and maintenance of their Web infrastructure. They have dedicated groups that deal with each individual aspect of operating the Web site.
Operationally, companies like eBay run and maintain their own infrastructure with distributed data centers, racks of servers and complex application software being monitored 24/7 with a host of system management tools. Fortunately for the small- to medium-sized business owner, much of the operational task can be outsourced to a reliable third party — like ATT Hosting, Akamai and Totality, just to name a few.
10 Tips
However, that's where the parity ends. For areas like content integrity, privacy, compliance, et al, there are experts at large enterprises who ensure that the content on the Web site is being delivered effectively and reliably. So unless you are the size of eBay, are you out of luck when you try to do business on the Web?
Not really. Even small- to medium-sized businesses can play with the big guys when it comes to selling online.
Following are the top 10 tips for running small- to medium-sized businesses on the Web:
10. Test your Web site for capacity. Prior to going live, the site must be able to support the expected level of concurrent visitors. This testing should be done from the end-user perspective. Self-service load testing tools available in the market can easily validate this. This need not be an exhaustive, consultative capacity assessment but rather a simple Web-driven synthetic traffic type of a load test — something that will give you peace of mind while keeping your hosting company honest.
9. Invest in making the site easy to navigate and intuitive to surf. Simplicity is the key in displaying your goods. Difficulty in locating a certain function that is hidden might turn-off potential buyers and they might never come back. This is especially critical for smaller companies for whom every customer matters.
8. Keep your content current. There's nothing as uninteresting as viewing the same old graphics or same old offers on the home page — month over month. With the availability of content distribution networks, this endeavor need not be expensive nor does it need to be that complicated. Rotating content across unique sessions keeps the site looking fresh, current and dynamic.
7. Keep an eye on your competitors. There is nothing more frustrating than finding out after the fact about some clear advantage that your competitor has over your offerings. There are certainly trade publications associated with your market vertical but to proactively track the competitor sites is a very good idea. There are competitive intelligence studies and vertical industry benchmarking indices available in the market that provide a complete assessment of the particular market vertical you are in.
6. Monitor the site from an end-user perspective. By doing this, you can gain a better understanding of your customer's experience on your site. Additionally, you can also catch "content creep," a practice where more and more is added to the site until the performance of the site is simply unacceptable. Images are often the main culprit but extensive text, forms, Flash files and JavaScript rendered content can also slow page downloads.
5. Let your hosting company do the heavy lifting. When it comes to application set up, Web pages design, check out process, database storage, etc., they are the experts, let them handle it. You don't need to worry whether your e-commerce applications are J2EE or .NET based, nor should the backend database choice matter too much. It's most critical that the hosting company commits to certain service levels for performance and reliability.
4. Make sure your site shows up on leading search engine searches. For natural searches, having the proper tags, keywords and links is absolutely critical to being considered for every query done by Google, Yahoo and the like. While large enterprises can hire search engine optimization consultants for thousands of dollars, your best bet is to go with online services such as Keynote NetMechanic. What this type of service gives you is much of what you would get with a consultant but it is extremely cost effective and can be used as a standard maintenance routine to tweak the search aspects of the site.
3. Perform periodic checks. You need to check regularly for HTML code compliance, broken links, spelling errors, browser compatibility and so on. While your hosting company is supposed to do all of this for you, it might make sense to watch over their commitments by using a service that provides you with virtually all of the tools to not only check for integrity of your site but also give repair suggestions. Additionally, you also get to verify that your site is compliant to privacy and accessibility standards.
2. Don't assume that the hosting company will take care of everything. It's often their smaller customers that suffer from an outage or poor response to problems. Always have a contingency plan for a redundant location. For example, have your hosting company walk you through what-if scenarios where site outages occur and fail-over systems take over. Also, you could arrange to have another hosting company on "cold" standby that could be up and running in a matter of minutes since every minute counts. It's critical that your customers are able to reach you 24/7. Only you have a lot to lose, not your hosting company.
1. Always, always, always follow through with what you promise on your site. This requires quality checks and a closed loop system for ensuring order correctness and validation of order fulfillment. Giving customers regular updates on order status is a cheap and effective way to show your attention to detail.
Online Presence Expected
I have listed out what each small- to medium-sized business owner should worry about when starting a new e-business. As I mentioned earlier, doing business online can be available to anyone who chooses to do so. In fact with the pervasiveness of the Web, it is harder and harder to find a business that would not be helped by an online presence.
Indeed, your customers expect to have access to the online channel so you had better use it well. If you have a legitimate business proposition, the Web might be your most expeditious and cost-effective channel to get up and running quickly.
---
Roopak Patel
is senior Internet analyst at Keynote Systems.
---