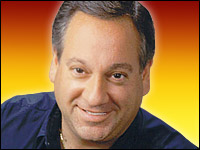 I first met Dan Hesse, the CEO of Sprint, back in the mid 1990s and have since followed both his and Sprint's journey. Let me tell you the backstory of the battle Hesse is fighting to bring Sprint back to life. I will also share a few thoughts about where it is today in its recovery, and what we can expect going forward.
When I met Dan Hesse, he was running the AT&T Wireless business back in the days when AT&T was still the long-distance giant. I have been an analyst for 25 years, so I have met quite a few CEOs and senior executives. They all want to make themselves and their companies look good in front of me — understandable. Over time, a few have stood out above the crowd. Real people. Honest. This is a good way to introduce you to Dan Hesse.
The AT&T wireless business at that time was vibrant and growing quickly. Remember the Digital One Rate plan? That was the first flat rate, all-you-can-talk plan in wireless, and it was created by Hesse. It changed the growth structure of the industry. Suddenly, people didn't have to count the minutes — they just talked. It was a big success, and every other competitor, including Verizon Wireless, Sprint and T-Mobile, followed suit.
Around 2000, Hesse left to run a company called "Terabeam" in Seattle. Then, several years ago, he got a call from Sprint because it was spinning off its local phone business. It was renaming it "Embarq," and it needed a CEO. Embarq was Sprint's wireline business, which it spun off when they acquired Nextel.
When Hesse ran Embarq, the quiet and sleepy company seemed to wake up. There was energy there among employees, investors and customers for the first time in years. The marketing, PR and advertising were terrific. The company, which had been in the sleepy shadows of the national long-distance company, was starting to shine on its own.
While Hesse was reviving Embarq, Sprint was getting into trouble. It went through two CEOs and couldn't find its way out. Seeing how successful he was becoming with Embarq, Sprint called on Hesse for help. He became Sprint's new CEO in December 2007.
Perfect Storm
When Hesse got to Sprint, it was worse than he thought. Apparently, things were a mess at the nation's No. 3 wireless carrier — and quickly getting worse.
During each quarterly earnings call, Hesse has been very open about the state of Sprint, from the moment he arrived through today. That was refreshing. Instead of a typical conference call, during which the CEO tries to put the best face on a rough situation, Hesse discussed the steps he and the team had taken to turn the company around and where they were in the process.
Hesse accepted the Sprint CEO job partially for the challenge, he said, because it required him to use the education, training and experience he had accrued over the past 30 years in the telecom industry. He sees business leadership as a vocation.
"A CEO of a major corporation can affect the livelihoods and quality of life of thousands of different people and families, like employees, vendors, shareholders, customers and the communities it serves," he told me.
After he got there, Hesse rolled up his sleeves; the operational problems were much greater than he expected.
The business trends at that time were heading in the wrong direction, and the negative trends lines were accelerating, he said. Churn was rising. Calls to customer care were double the industry average. Advertising was falling flat. The value of the Sprint brand was watered down. It had lost its relevance. Sprint had also lost its device innovation. The business was getting too complex, and Sprint was finding itself lost. Employee morale was in the dumps, and it was at risk of tripping its debt covenants.
Other than that, Dan said, they were hitting on all cylinders!
Any customer will tell you the problems came from letting customer service deteriorate. To save money, the company reduced customer care resources — which in hindsight, was clearly a key mistake. It's no good to take longer to solve a customer problem. Call handle times increased, meaning the call abandon rates increased too. That means call volumes increased further when customers called back.
The perfect storm was gathering around Sprint. Everything that could go wrong was going wrong. How could so much damage have come to this industry leader? The Sprint brand was taking a beating. Customers were leaving, causing pressure on earnings.
Starting that first January, Hesse took a number of first steps to begin to repair the damage. He named a new leadership team and reversed the decision to have separate headquarters for Sprint and Nextel. He cut costs. Closed stores. Cut the work force. He introduced cultural imperatives that were the blueprint for how the company would get the work done.
Sprint focused on three clear priorities, which It still focuses on today: Improve the customer experience; strengthen the brand; generate cash. I think this is the kind of thinking every company should focus on every day.
Magnificent 7
To get the organization and culture aligned around improving the customer experience, Hesse created these Magnificent 7 steps, which I think would help every company:
1. Aligning Compensation and Rewards. Every employee's at-risk pay was based on reducing churn and calls to care, and generating cash. Every person, from the CEO to the mailroom clerk, was on the same formula.

2. Improving the Customer Experience. This was at the top of Hesse's weekly operations meetings with senior leaders.

3. Root-cause analysis/data. Sprint used the "reason codes" — why customers were calling, as its root-cause analytic.

4. Accountability. Senior leaders were made accountable, reducing calls to customer care if their organization was the cause as identified by the "reason codes."

5. Project Leadership. Bob L. Johnson, Sprint's chief service officer, has done a terrific job, according to Hesse.

6. Simplify. At AT&T Wireless in the 1990s, Hesse learned with the Digital One Rate plan that customers would pay a premium for simplicity, so the company simplified its offers to the customer. It introduced the Simply Everything family of plans. It further simplified its business, and the sales and service process, by reducing the number of plan offerings by 85 percent.

7. Make it a brand principle, and live the brand. Sprint anchored its brand around value and simplicity; it launched the Ready Now program to help customers become comfortable and confident using smartphones, which reduces returns and churn. When it made improvements in the customer experience for two years, it launched the Sprint Free Guarantee — the industry's only full, 30-day money back guarantee — to encourage customers to give the company a try without the fear of making an irreversible commitment.
The company's careful financial management, led by its CFO Bob Brust, who was recently named CFO of the Year by Institutional Investor magazine, enabled Sprint to acquire Virgin Mobile USA to capitalize on the growing prepaid market, acquire iPCS to expand its network footprint, and to continue to invest in Clearwire in order to build out its 4G network.
It launched several interesting things — like Overdrive, which creates a personal wireless hotspot, and the HTC EVO 4G phone, which is the first 4G phone in the market. It also launched the first "green" phones in the U.S. It used to offer cutting-edge devices, and that is what it is working hard to do once again, as well as being a leader in environmental responsibility.
Dan Dooley is the president of wholesale services. This title does not adequately tell you what he does, exactly. Dooley is the guy responsible for all the advanced services Sprint is getting involved with, Hesse said. So when you think about the future of Sprint, Dooley is right in the middle of the picture. This should be a very exciting area to follow going forward, both for the company's recovery and for the innovation.
Third Inning
Sprint has a lot of work ahead, but it just had a solid second quarter. It grew total wireless subscribers by 111,000, according to Hesse, driven by its best-ever postpaid churn of 1.85 percent. And it reported sequential stability in revenues, adjusted OIBDA and OIBDA margins, and strong free cash flow.
The American Customer Satisfaction Index — the University of Michigan customer satisfaction study — reported that over the past two years, Sprint's customer satisfaction not only improved far more than any U.S. wireless carrier, but also improved more than any U.S. company in the survey in any industry, period.
This was the big problem Sprint found itself dealing with, which it has finally wrapped its arms around and has been busy fixing. This improved performance shows it is on the right path, finally.
Sprint still has a long way to go, but as you can see, it seems to be working very hard putting the ship back on the right tack. It's a big job — bigger than most realize. However, it does look much better today than it did a few short years ago.
During an analyst call, Dan Hesse used an analogy of a baseball game in the third inning, which is very helpful in understanding where Sprint is in the recovery. The first three innings are to stabilize the company. The next three are to get the Sprint brands to grow, and the final innings will be to become best-in-class in all aspects of its operations.
Sprint cannot say it has turned the corner yet, but it is improving on all these fronts. It is winning an increasing number of accolades from third-party sources; it has much happier customers; it has begun to reverse its losses; and its employees are reporting renewed optimism.
While this story is not over and recovery will likely take several more years, it does look like Sprint seems to be heading on the right path after several years in the darkness. Today is better than yesterday, and tomorrow will be better than today, said Hesse. Let's hope he continues to be right.
---
Jeff Kagan
is an E-Commerce Times columnist and a wireless, telecom and technology analyst, author and consultant. Email him at
[email protected]
.