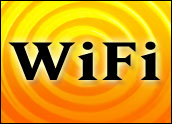 A group of 18 organizations on Thursday announced the formation of WifiForward, a coalition that aims to persuade policymakers to open more unlicensed wireless spectrum for use by WiFi-enabled devices. Members include the American Library Association, the ARRIS Group, Best Buy, Comcast, the Consumer Electronics Association, Google, the International Association of Venue Managers, Microsoft and Time Warner Cable.
"WiFi traffic grows nearly 70 percent each year and adds tens of billions of dollars each year to the U.S. economy," said Mike Roudi, Time Warner Cable's senior vice president for corporate development.
"We look forward to working with the government to unleash unlicensed spectrum to further meet consumer demand and add more jobs to our economy," he added.
Although not part of the coalition, AT&T affirmed the importance of WiFi, especially as a means of offloading data demands on its cellular network.
"It's an important part of our network planning and always has been," AT&T spokesperson Mark Siegel told the E-Commerce Times.
Relentless Pursuit of Spectrum
In conjunction with the announcement of its creation, WifiForward released an economic impact study that found unlicensed spectrum generated US$222 billion in value to the U.S. economy in 2013 and contributed $6.7 billion to U.S. GDP.
Unlicensed spectrum is comprised of bands that are available for devices to broadcast without licensing from the Federal Communications Commission. The FCC is in the process of reviewing how unlicensed spectrum should be allocated.
One proposal before the commission would increase and free up unlicensed spectrum for ultra-high speed, high-capacity Gigabit WiFi by up to 35 percent — from 555 megahertz to 750 megahertz of spectrum — the largest block of unlicensed spectrum to be made available for expansion of WiFi since 2003.
That additional spectrum will increase speeds and alleviate WiFi congestion at major hubs such as airports, convention centers and large conference gatherings, according to the commission.
In addition, it would increase speed and capacity for WiFi in homes, where multiple users and devices are often on the network at the same time.
"WiFi congestion is a very real and growing problem," former FCC chairman Julius Genachowski said when unveiling the spectrum reallocation proposal last year. "Like licensed spectrum, demand for unlicensed spectrum threatens to outpace supply."
"We have been and will continue to be relentless in our work to free up spectrum, and we will lean into every opportunity that can meet the country's spectrum needs," he added.
Will Change Landscape
If WifiForward can advance its agenda, the WiFi landscape should be a very hospitable one for consumers.
"We will see continued innovation in the wireless landscape — faster WiFi speeds, the capability to deliver more services in more places, as well as better indoor coverage and improved access in public places like airports," Paul Mitchell, general manager for technology policy at Microsoft, told the E-Commerce Times.
Although WiFiForward intends to push spectrum grabs on all fronts — 2.4 GHz, 5 GHz, 3.5 GHz and TV "white" space — the 2.4 GHz and 5 GHz are the most important, maintained Cisco Technical Leader Andrew Myles.
"The 2.4 and 5 gigahertz bands are the most important for unlicensed spectrum, particularly for WiFi, because that's where WiFi equipment is operating now," he told the E-Commerce Times. "
"There's a massive existing ecosystem in the 2.4 and the 5 with WiFi," Myles said. "That's something that is very easy to leverage.
"The 3.5 and white space bands are interesting for unlicensed spectrum," he added, "but there are a variety of issues with those bands, so they're something for the future rather than something for the near future."