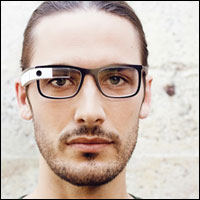 Up to now, Google's smart eyeware, Glass, largely has been considered a diversion for gadget lovers, but the company on Tuesday announced a new program to encourage its use in the workplace.
"Today, there are thousands of consumers out there enjoying Glass in ways that are both practical and inspirational," a Google spokesperson said in a statement provided to the E-Commerce Times by Chelsea Maughan.
"At the same time," the statement continues, "we've also seen many in the enterprise world — from pro sports teams to hospitals — begin experimenting with Glass. We wanted to create a program that made it easier for them to get started on implementing Glass in their businesses."
Google Glass at Work Explorer Program, which is part of the broader Explorer program, is focused on helping businesses better achieve their goals and serve their customers with Glass.
Developers are building great Glassware for consumers, according to Google, which is courting developers who are specifically focused on the enterprise.
$1B Savings
"Google is looking for use cases that make sense," Carl Howe, a research director with the Yankee Group, told the E-Commerce Times. "As it turns out, there are cases where using Glass is more convenient than using other technologies."
For example, in hospital settings, Glass is being used by physicians to access patient information and create patient charts. At Schlumberger, an international oil services company, field technicians use Glass to look at support checklists while keeping their hands free to perform maintenance tasks.
"At present, it's a zero billion dollar business so there's a lot of work to come," Howe said.
A lot of that work will come in vertical markets, such as manufacturing, field service, retail and healthcare.
Within the next five years, smartglasses will be implemented in 10 percent of organizations with offsite workers such as field service personnel and inspectors, Gartner predicted in a report released late last year.
"Smartglasses with augmented reality and head-mounted cameras can increase the efficiency of technicians, engineers and other workers in field service, maintenance, healthcare and manufacturing roles," said Angela McIntyre, a research director at Gartner.
"In the next three to five years," she continued, "the industry that is likely to experience the greatest benefit from smartglasses is field service, potentially increasing profits by (US)$1 billion annually. The greatest savings in field service will come from diagnosing and fixing problems more quickly and without needing to bring additional experts to remote sites."
Privacy Concerns
While savings are always a strong incentive for adoption of a technology, other considerations — privacy and security, for instance — could act as a drag on adoption.
Privacy already has become a thorny issue with consumer use of Glass.
Because a device like Glass is worn constantly, there is no overt act that signals to an observer when surveillance starts and stops, the Electronic Privacy Information Center has noted.
If someone takes a photo or video with a cellphone, that person must hold up the device in a noticeable fashion. Glass can begin recording with only a subtle tap, a word or a wink. After this first step, it may not be possible for an unfamiliar observer to tell whether recording is ongoing or not, according to EPIC.
Glass and other wearable computers can pose an added risk for women.
Glass exacerbates the risks many women already face of being subjected to harassment or shaming, EPIC pointed out.
Those privacy risks in the consumer world can be more complicated for the enterprise, due to its deep pockets.
"They can implicate obligations of the employer, as opposed to just a single individual," said Timothy J. Toohey, a privacy attorney with Morris, Polich & Purdy.
"This technology can have a lot of positive uses," he told the E-Commerce Times, "but when you start putting the human factor in — employee/employee, employer/employee, employee/customer — then the privacy concerns of people potentially being recorded becomes an issue."
Enthusiasm Abounds
Privacy issues don't seem to have dampened enterprise enthusiasm for Glass.
"From what we're seeing from our customers — and we have over 2,000 customers in trial right now — we're seeing huge excitement around the possibility of what this can do for enabling the workforce," Brian Ballard, CEO of APX Labs, told the E-Commerce Times.
"The topic of privacy is there for both consumers and businesses, but the enterprise is used to dealing with those problems more so than the average consumer," he added.
Software makers have been proactive in addressing privacy and security issues in their workplace software. For example, Wearable Intelligence has instituted several protective measures for its Glass software for hospitals: Network traffic to the device is encrypted; the device is bricked outside the range of a hospital's WiFi network; and user credentials don't live longer than a shift.
"Being mindful of the privacy issues is part of the solution that we're building into Glass," Yan-David Erlich, CEO of Wearable Intelligence, told the E-Commerce Times.
"I suspect Glass will have obstacles, much like the iPhone and iPad had obstacles," he acknowledged, "but we're surprised by how enthusiastic industries not known for their early adoption of technology are to test and pilot this technology."