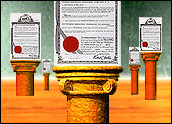 Samsung and Google on Monday solidified their business relationship, announcing a far-reaching, global cross-licensing agreement that will cover not only existing patents, but also intellectual property developed by the sprawling companies over the next 10 years.
Under the agreement, the companies will give each other access to their patent portfolios, paving the way for deeper collaboration on research and development of both current and future products and technologies.
"We're pleased to enter into a cross-license with our partner Samsung," said Allen Lo, deputy general counsel for patents at Google.
"By working together on agreements like this, companies can reduce the potential for litigation and focus instead on innovation," he added.
'Highly Significant Agreement'
Innovation without litigation is the steady drumbeat coming from the companies.
"This agreement with Google is highly significant for the technology industry," said Seungho Ahn, head of Samsung's intellectual property center. "Samsung and Google are showing the rest of the industry that there is more to gain from cooperating than engaging in unnecessary patent disputes."
Both companies should benefit from the deal, noted Trip Chowdhry, managing director for equity research for Global Equities Research.
"It's very good for Samsung and Google and Android," he told the E-Commerce Times. "It allows them to continue to focus on out-innovating the industry."
The deal with Google came on the heels of Samsung's announcement that it was settling a patent wrangle with Ericsson for US$650 million plus an unspecified amount in royalties.
"The Ericsson-Samsung settlement is more significant because it settles actual litigation pending before the ITC and the United States District Court for the Eastern District of Texas, because these companies aren't allies, and because serious money is changing hands," wrote patent analyst Florian Mueller in his FOSS Patents blog.
Balkanization of IP
The significance of the Google-Samsung deal isn't evident to all.
It's "a start down the road, but it's like two friends agreeing," A. Christal Sheppard, an assistant professor of law at the University of Nebraska College of Law and former chief patent and trademark counsel for Congress, told the E-Commerce Times.
"Until we see two enemies agreeing, then we really haven't made that much progress," she maintained.
"This isn't very significant for them," said David Mixon, a patent attorney with Bradley Arant Boult Cummings.
"Google and Samsung are united anyway because Samsung's products operate off the Android platform, so they're already business partners," he told the E-Commerce Times.
Polishing Apple?
Still, taken together, the Google and Ericsson deals could be viewed as a sign that Samsung may be ready to iron out its differences with Apple when the CEOs from the companies meet in a pretrial mediation session on Feb. 19.
"It certainly seems that the timing is important here," David Newman, an attorney with Arnstein & Lehr, told the E-Commerce Times.
"I think Samsung is very serious about moving ahead and focusing on technology," he continued. "It remains to be seen if there's enough pressure being applied here to get a settlement with Apple, but I think that is clearly Samsung's intention," he observed.
Typically, patent disputes between large companies end up with some kind of cross-patenting agreement, but the disputes between Apple and Samsung have been prolonged — and for good reason.
"Wireless technology is the explosive growth area all around the world for these companies, so it's extraordinarily important," noted Mixon. "It is vital for their survival. It is difficult to overstate the stakes for these companies."