Google on Wednesday announced that it is giving tablet and smartphone users more purchase options in an effort to respond to shoppers' "micro moments."
Mobile devices influenced about 28 percent of in-store sales in the U.S. last year, noted Jonathan Alferness, vice president of product management for Google Shopping.
However, Google also would like to help shoppers who want to use their mobile devices for the entire purchase process.
"Right now, it's way too hard to buy things on your phone," Alferness told the E-Commerce Times. "This stat really proves this out: Conversion rates for U.S. retailers on desktop are two times higher than on mobile."
Google can reduce some of the friction that slows down the checkout process, and thus increase mobile conversion rates for retailers, he noted.
"We announced a number of shopping products today, and every single one was designed with the purpose of making it easier for people to shop on their mobile phones in moments throughout the day," said Alferness.
I Want to Know, Go and Buy
Google's latest changes to mobile Search are designed to accommodate consumers during three critical shopping moments: "I want to know," "I want to go," and "I want to buy."
To better serve shoppers experiencing "I want to know" moments, Google is improving its mobile search functionality. It is beefing up the information the engine churns out when users swipe on a product listed in one of the sponsored answer boxes that appear at the top of search results.
It's also improving the ranking of marketing materials that appear in those answer boxes, and placing review data on its digital cards.
Addressing the needs of customers who want to go out to brick-and-mortar stores to shop, Google intends to arm consumers with more information about local inventories. Google Now cards will display live inventories, operating hours, in-store promotions and price drops.
To usher shoppers to virtual kiosks to close a sale, Google has partnered with select retailers to shorten the checkout process during "I want to buy" moments.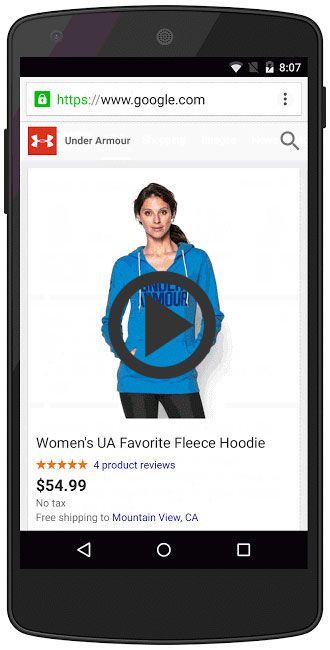 Click Image to Play
Discrete integration of purchase options in partner apps and the addition of a Buy button in sponsored boxes topping search results will send customers straight to a retailer-branded checkout page.
The Mobile-First Market
Google didn't specify when it will roll out the Buy button universally, as it plans to do more testing on the addition.
Google Now's new shopping cards are live now, and the company plans to begin rolling out the improved swipe later this month.
Each of Google's new search services are incremental steps in the right direction, said Roger Entner, principal analyst at Recon Analytics.
The likes of Facebook and Amazon certainly should take note, he suggested.
"It shows that Google is trying to expand its reach further and further," Entner told the E-Commerce Times, "and really brings its vast knowledge in analytics to bear."
However, an uptick in online conversion rates could be tailed by a rise in returns, he cautioned.
"These improvements "certainly accelerate the purchasing process," Enter said. "It makes impulse buying easier, with all of the pros and cons that come with that."