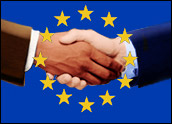 Google is close to settling the antitrust case the European Commission brought against it more than three years ago, according to a Reuters report.
This is its third offer to the EC so far, and it reportedly includes commitments from Google on how it will treat rivals and how it will use content from other providers.
"We are … at a critical point in the Google investigation," Antoine Colombani, EC spokesperson for competition, told the E-Commerce Times.
"Last December [European Commissioner for Competition Joaquin] Almunia said that the second round of proposals was not acceptable for the Commission because [they were] not sufficient to address the Commission's competition concerns, and that time was running out for finding an agreement," he observed.
Opposition from Microsoft and other complainants reportedly killed the first two offers.
Almunia had warned Google Jan. 15 that it had one last opportunity to settle the case before the commission filed a formal Statement of Objections.
"We don't comment on rumors or speculation," Google spokesperson Samantha Smith told the E-Commerce Times.
Google Under the Gun
Microsoft and the 124 other companies that filed the antitrust complaint alleged, among other things, that Google played them down in search results while displaying its own services in prominent first-page positions.
The EC has been investigating that allegation, along with three other areas of concern: Google's use of original content from third-party sites; its blocking of competitors' ads on websites using Google ads; and its insistence on restrictive contracts that prevent clients from exporting search advertising campaigns to competitors' platforms.
Almunia told the European parliament in October that there was a strong case for action under the EU's antitrust rules in each of those four areas.
"If someone's paying top dollar to be on a Google search and is still not featured prominently, that's a problem," remarked Mukul Krishna, senior global director of digital media at Frost & Sullivan.
However, "if they have contracted with Google and Google is promoting them based on that contract, I don't really see much of a cause for litigation," he told the E-Commerce Times.
Almunia rejected Google's second settlement proposal just before Christmas, reportedly because it failed to address complainants' allegations about its anticompetitive behavior.
Give Peace a Chance
Google's second offer reportedly would let competitors display their logos and Web links in a prominent box, and let content providers decide which of their materials Google could use. It also would have made it easier for advertisers to move their campaigns to the competition.
Complainants, including Microsoft, Expedia and TripAdvisor, reportedly have said Google's earlier offers would entrench its dominance. Google currently has 98 percent of the European search engine market, according to Statcounter.
"Google right now rules the search market, and there might be a lot of legitimate concerns," said Frost's Krishna, "because when you're that 300-pound behemoth in the market, people may have other options — but you are so dominant that it's good business practice for them to be promoted on Google Search."
Google's latest settlement offer reportedly improves on the previous one but not dramatically.
EU regulators reportedly will not seek input from the 125 competitors that have commented on Google's previous proposals.
The antitrust complaints against Google are "just business as usual," Krishna said.
What Might Happen Next
"If Google offers commitments which address the Commission's competition concerns, there could be a settlement through which the Commission would make these commitments legally binding," the EC's Colombani said.
Otherwise, the Commission would proceed with a statement of objections, he said, "which could eventually lead to a decision prohibiting any anticompetitive behavior and, possibly, imposing a fine."