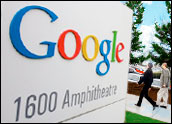 News that Google is purchasing artificial intelligence companyDeepMind for between US$500 million and $650 million surfaced Monday.
Google spokesperson Tim Drinan confirmed the deal to the E-Commerce Times but declined to provide further details.
The first commercial applications of DeepMind, which was founded in 2011, are in simulations, e-commerce and games.
"These are the areas most likely to benefit from — and generate revenue from — AI," Jim McGregor, principal analyst at Tirias Research, told the E-Commerce Times. "However, the expertise and algorithms could be used in many other areas. Just think of the potential in medical applications, where a computer could learn from millions of scans and tests to better diagnose ailments."
The purchase will help Google handle the massive amounts of data it handles, which will be sharply increased following its purchase of Nest, suggested Rob Enderle, principal analyst at the Enderle Group.
How Deep Does It Go?
DeepMind describes itself as a cutting edge artificial intelligence company that combines the best techniques from machine learning and systems neuroscience to build powerful general-purpose learning algorithms. It's not clear how far the company has progressed toward its goals.
Former child chess prodigy Demis Hassabis is one of its cofounders. The other two are Shane Legg and Mustafa Suleyman. DeepMind's staff include Jaan Tallinn, cocreator of Skype and KaZaa.
Prior to its purchase by Google, DeepMind was recruiting machine learning researchers and software engineers.
Start Making Sense
DeepMind's AI engine "will first make sense of [Google's collected data] and they'll be able to answer questions about us that we haven't even imagined yet," Enderle told the E-Commerce Times. "From this, they should be able to focus offers that we literally can't refuse."
Google has been leveraging machine intelligence and AI in its online ad research, including predicting click-through rates for online ads.
Back in May, Google launched the Quantum Artificial Intelligence Lab with the United States National Aeronautics and Space Administration.
Possibly Google's best-known AI achievement is its jointly developing with Stanford University a 16,000-processor neural network that taught itself to recognize faces and images of cats on the Internet.
Squaring Off Intelligently With Facebook
Google's purchase of DeepMind intensifies its AI arms race with Facebook.
Facebook in September set up an eight-member team to study how AI could help it better analyze data it gathers on members.
In December, Facebook named New York University professor Yann LeCun director of a new lab devoted to research in AI and deep learning.
Deep learning is a set of algorithms that use layered architectures running on artificial neural networks. The learning algorithm used by Google and Stanford to recognize faces and images of cats had nine layers, for example.
"AI is a game changer, which is why IBM is dropping another billion into Watson," Enderle pointed out. "It potentially provides a level of analytics that can turn novices into experts."
Staving Off the Computer-Generated Dream World
As part of the purchase deal, Google reportedly will set up an AI ethics board to make sure the DeepMind technology is not abused, according to The Information.
"I think this was more political than anything else, but given the lack of respect for consumer privacy by Google and the other major tech companies, this may be a good move," Tirias' McGregor said.
"Like [Google's] 'do no evil' thing, I doubt [setting up the board] will be effective," Enderle suggested. "Developing a true AI has massive risks associated with it … . Putting it in the hands of a firm like Google, which likes to push buttons, is actually pretty scary."