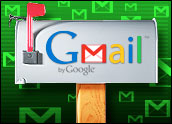 Hundreds of thousands of Gmail users woke up Monday to find their emails had vanished and they had lost their contacts.
Initial estimates put the number of people affected at between 150,000 and 500,000.
Google's support forums are inundated with messages from angry users.
The Internet giant indicates on its Apps Status Dashboard that service has been disrupted for Gmail, but that no other Google apps are affected.
"We've had some big updates since initial reports," Google spokesperson Jessica Kositz told the E-Commerce Times.
Torpedoing the Global Village
Google wouldn't say exactly how many people were affected.
"We have lowered our estimate of the number of affected Gmail users from 0.08 percent to 0.02 percent," said Kositz. "We have restored access for a third of those affected."
The remaining 0.013 percent of accounts, Kositz added, are being restored on an ongoing basis and Google expects the issue to be resolved for everyone within 12 hours.
"We now have a better understanding of this issue," Kositz said, though she would not elaborate on what the issue was or what caused the outage.
No Such Thing as a Free Lunch
Google provides several different editions of Google Apps targeting sectors like education, government and nonprofit organizations. The standard edition of Google Apps is free; Google Apps for Business costs an annual fee.
"I haven't had any issues," Kira Golin of Motorola Mobility, which is a Google Apps for Business user, told the E-Commerce Times.
Another Google Apps for Business customer, Ohio Wesleyan University, is similarly unaffected, university spokesperson Cole Hatcher told the E-Commerce Times.
Perhaps that's because Google offers a service level agreement (SLA) assuring 99.9 percent uptime for paying Google App customers.
Google charges Apps for Business customers $50 per user per year for the service.
"I think it's important to note that there are differences between people using Google's free services and what Google might be selling to a private- or public-sector organization," Charles King, principal at Pund-IT, told the E-Commerce Times.
Size Matters
"When Google or Microsoft cut a deal to provide their cloud services for money, there are higher levels of disaster recovery and, like any other IT service, there are going to be SLAs attached that would help to either avoid a problem like this or make recovery from an outage like this much more seamless and less serious," King said.
However, small-business customers and consumers who use the free versions of Google's may have been impacted by Monday's Gmail fail. It's not yet clear how many small businesses were hit by the crash.
However, small businesses should be aware that cloud services can be spotty. Back in June, many small firms lost access to Intuit's small-business applications online for two days.
"It's important the company point out that, whenever a consumer or a small business uses the free versions of Google Apps and Gmail, that they can't assume these will be up all the time," King pointed out. "They need to protect themselves."
Possible Fallout from the Gmail Fail
Several notable crashes at Google and other services over the past couple of years may raise questions about the reliability of cloud services in general.
For example, Gmail crashed in February 2009, impacting millions of users. In March of 2009, Microsoft's Azure cloud had a meltdown that lasted about 24 hours. In 2010, users of T-Mobile's Sidekick handsets lost considerable amounts of cloud-based personal data.
Questions about security in the cloud led the Los Angeles Police Department to balk at moving its system from Novell Groupwise onto Google Apps last year after the city had agreed to move all 30,000 of its employees onto Google.
The City of Los Angeles did not respond to requests for comment by press time.
The Gmail fail points to a more important issue: Can we trust the reliability of the cloud? What happens if the disaster recovery capabilities for cloud services fail?
Recall that Microsoft lost emails from the accounts of nearly 18,000 HotMail users in December.
Add in the incident with Microsoft's Business Productivity Online Suite in December, which saw customers' address books disclosed to each other; and Google's Local Business Center having mistakenly emailed potentially sensitive business data of some customers to third parties, and fears that moving to the cloud may once again raise their heads.
Microsoft blamed its problem on an error in a script, while Google fingered human error.