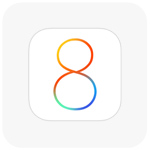 OK, I admit it. I both love and hate Apple's new iOS 8 — and apparently so do many others, based on the online searches for help I've done. I've had a love-hate relationship with iOS for years.
There's much about the new iOS 8 to love; however, I hate that updating to it screwed up so many features I regularly use. What's worse is that Apple does not seem to care.
Updates – Hah!
If you updated an older iPhone model to the new iOS 8, rather than purchasing the latest iPhone 6 or 6 Plus, I am sure you have your own issues and delights. Mine have to do with things like the talk feature on the Google search app no longer working, and loss of the ability to sync with Microsoft Outlook, which I need and have been doing for years.
Regarding the sudden syncing problem I have with Microsoft Outlook, this is the same problem I had with iOS 6. My iPhone would not sync with the calendar on Outlook with iOS 6.
After months of dealing with Apple representatives, the problem persisted. Apple people were very nice and very helpful. They did not let me disappear. However, they were not able to solve the problem either.
Something like this simply should not stop working. The calendar is one of our very important features.
Along with my iPhone, I had to carry an older BlackBerry — just for the calendar. This problem lasted until iOS 7 hit the streets a year ago. Suddenly, it was solved. Hooray. It has been a good year.
However, now that iOS 8 is out, the problem is back. This is like a sick Halloween horror story. Can't Apple fix a problem for good? Boo! If it can't fix it, can't it let users revert to the previous iOS?
The key question is, does Apple just want to keep moving ahead — or does it want happy customers? This is a clear distinction — and so far, Apple is failing.
Like everyone else, I need my calendar — so much so, I was thinking about pulling out my ancient BlackBerry once again. Not that it was ever perfect either, believe me — I've had problems with BB over the years as well.
Slipping Loyalty
Another broken feature: The Google search app voice feature no longer works properly after the iOS 8 update either. So I have to go backward and type search terms onto the screen. That's so… yesterday and very frustrating.
In fact, the voice feature on other apps seems to be giving me some trouble as well.
So what's the sudden problem? It's the update to Apple's operating system. The problem is iOS 8. It's full of great innovation — but it also has several hiccups, which drive many users nuts.
When updating to a new version of iOS, users should not have to hold their breath and hope everything still works when it's over. It should just be a smooth transition, right?
If there is a problem, users should be allowed to revert to the old iOS so they can continue to use the features they need, right?
Reverting is something Apple forbids for some aggravating reason. So customers who have problems sit there and steam because of Apple. Is this a way to build a good relationship with customers? I don't think so.
I am continually thinking about switching to another phone to fix this problem. Is that what Apple really wants from its customer base? I don't think so — yet that's the result of its actions.
Why can't Apple — and for that matter, Google and other mobile operating system developers — leave well enough alone? Why do they want to change everything every year?
Early adopters may like this, but most user don't like the struggle year after year. Apple and every OS developer should let customers upgrade or not — and if they try, and it doesn't work, they should be able to revert to what they previously had. That's only fair.
Show Me the Way to Go Home
What Apple should do is create updates to the operating system but not reinvent the entire platform every year. It would be OK to reinvent everything every year, if it would give customers who get unpleasant surprises an out, so they could revert to an OS that worked.
This problem is not just a smartphone issue. It's with other technology as well, like computer operating systems. Consider Microsoft Windows. There is such a huge difference between XP, Vista, Windows 7 and Windows 8.
Many users would just prefer to stay on their existing OS with updates. So companies should leave users alone already, for crying out loud!
This is too much change for users. We all have our lives to live and our businesses to run. We don't need to become software engineers every year just to use our dang computers.
One solution is moving everything to the cloud. That's something I have tried and like, but I am still concerned about security and access when I don't have an Internet connection.
I understand Apple wants to keep moving ahead. However, users who have problems should be able to use a previous version of the operating system to continue to enjoy their devices, don't you think?
Wireless should not be this difficult or complicated for the user. I've checked, and there are plenty of frustrated users out there who simply want their iPhones to work.
So come on, Apple — take better care of your customers. This is so frustrating. It is hurting your brand.
Don't get me wrong… I love Apple products. Heck, I love the entire wireless industry and all the competitors and devices, from networks to handsets.
What I don't love is getting more dependent on these things and then having them stop working. If the wireless industry wants us to stop carrying wallets and keys and just use our smartphones as the remote control for our lives, the devices will have to get much better and more reliable, or we customers will revolt!
For now, just give me iOS 7 back. Please.