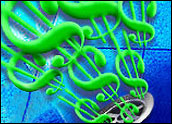 While financial cybercrime against card-not-present retailers has many forms, "friendly fraud" has emerged as a particularly painful thorn in the side of e-commerce merchants. Defined as a situation in which a customer disputes a legitimate credit card transaction, falsely claiming fraud or non-delivery of goods, friendly fraud is extremely hard for retailers to identify and nearly as costly to their business as criminal fraud.
When a customer calls to dispute a transaction, the bank usually credits the customer's account immediately, pending further investigation. This is known as a "chargeback." Chargebacks occur for many reasons, including "non-delivery of goods," "credit not processed" and "item not as described," but chargebacks for "fraud" are the most common.
Seventy percent of all e-commerce chargebacks are identified as fraud, according to Mastercard. What most merchants have experienced, however, is that fraud doesn't always mean the purchase was unauthorized. More and more, cardholders are committing friendly fraud due to buyers' remorse or financial hardships.
Friendly fraud is difficult to anticipate or identify. Unlike a true fraud chargeback, which can often be predicted through scoring or behavioral risk models, a good customer can turn into a friendly fraudster at any time, without warning.
For this reason, many merchants feel that friendly fraud is impossible to detect or prevent. The fact is, there are ways to reduce friendly fraud — and committing to reduce friendly fraud gives you the added benefit of reduced refund rates.
Following are a few tips to help merchants recognize and prevent friendly fraud.
Operational Assessment
Non-technical in nature, this step requires merchants to take a hard look at their business operations and ask tough questions. For instance: What barriers are in place that make a customer less likely to contact the merchant's customer service department versus their bank to dispute charges?
Some merchants intentionally create hoops for their customers to jump through before issuing a credit for goods or services. We find that this tends to backfire, resulting in a chargeback that causes a loss of the product or service plus a $25 chargeback fee.
Perhaps the customer is unable to reach a merchant's customer service rep within a reasonable amount of time and decides to expedite the refund by calling the bank or disputing the charge online (no hold time). By making it easier for a customer to reach customer service with questions or concerns about a purchase, merchants can avoid some friendly fraud.
Marketing Data Analysis
One of the most successful approaches to reducing friendly fraud can be in-depth marketing analysis. Many merchants focus on the top-line metrics of a marketing campaign: conversion rate and cost of the campaign. The true success of a marketing campaign should be measured by adding customer retention rates, refund or credit ratios, and chargeback ratios.
An affiliate marketer, for example, may provide a potential customer with an unclear product offer causing a chargeback for the purchase. These situations can also cause higher refund and credit rates. Analyzing marketing data in this way often paints a more complete picture and gives visibility to the true cost of marketing campaigns.
Merchants empowered with this type of data can increase their marketing spend on campaigns with the strongest performance and eliminate the campaigns that drive higher chargebacks and refunds.
Payer Authentication
Another layer of friendly fraud protection is payer authentication. Payer authentication programs, like Verified by Visa and MasterCard SecureCode, help prevent the use of stolen credit cards and shift chargeback liability for "fraud" chargeback reason codes from the merchant to the card issuer.
Consumers who have taken this additional step to validate their identity at the time of purchase may be less likely to claim fraud. Additionally, since the majority of friendly fraud chargebacks are issued with a "fraud" reason code, merchants who participate in these programs can significantly reduce the number of "fraud" chargebacks that they receive as a result of a cardholder claiming fraud on a transaction that was, in fact, authorized.
Reducing friendly fraud should be a focus of every e-commerce merchant. Despite perceptions to the contrary, reducing chargebacks due to friendly fraud doesn't have to be expensive or difficult. It just requires a bit of know-how and support from the right service providers.
These efforts will not only reduce the occurrences of fraud and chargebacks, but also increase profitability and reduce overall operational costs.
---
Tricia Philips
is vice president of strategic projects at
Verifi
, a provider of payment, risk and fraud management solutions to card-not-present retailers.