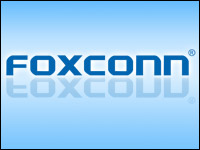 Foxconn Technology Group has offered as much as US$5.3 billion to purchaseSharp, according to media reports this week.
Foxconn, formally known as "Hon Hai Precision Industry Co.," is said to have offered between $5.1 billion, or 600 billion yen, and $5.3 billion, or 625 million yen.
A response to the offer is not expected before the end of January, as the discussions are private.
Shares of Sharp were up last week amid reports that Foxconn was interested in making a major investment in the company. Sharp was expected to spin off its struggling LCD business as part of a plan to stem the bleeding at the company and work with theInnovation Network Corp. of Japan on a bailout deal, according to Japanese media reports.
That information was not based on reports from the company, Sharp President Kozo Takahashi said last week, adding that it was working with several parties to restructure the business.
"In order to reconstruct our management, we have been continuing negotiations with other companies regarding fundamental structural reforms of LCD panel business and such," he said. "However, nothing is determined as of yet."
Dependence on Apple
Foxconn is looking at a way to control its own fate by controlling the branding of the products it could sell under Sharp, said Kevin Krewell, principal analyst atTirias Research.
"By buying Sharp, a well-known brand with respected products, Foxconn gains some measure of control," he told the E-Commerce Times. "Having manufactured products for Apple and many other companies, Foxconn has a lot of knowledge on how to build high-quality consumer products."
The discussions mark the latest in a series of negotiations between the two companies in recent years.
In 2012, Foxconn and Sharp announced a strategic global partnership that involved Hon Hai procuring up to 50 percent of large-size LCD panels and modules at Sharp's Sakai City plant in Osaka, Japan.
That agreement called for the companies to issue new shares under the partnership, which would have reallocated ownership from 93 percent Sharp and 7 percent Sony, to Sharp and Foxconn founder Terry Gou and affiliated companies each holding 46.5 percent and Sony holding the remaining 7 percent in return for a$1.6 billion investment.
The deal fell apart after the two sides failed to agree upon terms and concerns about the ownership stake by Gou's company.
The companies renewed discussions in 2015 but failed to reach agreement amid Sharp's concerns about how Hon Hai would manage its patents, said Charles King, principal analyst at Pund-IT.
Sharp Decline
Sharp last spring negotiated a $1.7 billion rescue package from Mizuho Bank and the Bank of Tokyo-Mitsubishi amid losses from a deteriorating business environment for LCDs in the U.S. and the energy solution business.
Sharp also has been considering a bid by state-backed Innovation Network on a bailout deal that would rescue the electronics firm.
"The bottom line is that Sharp is going to get bailed out by someone," King told the E-Commerce Times.
"I doubt Apple will care about Sharp, but the Japanese are not happy about Sharp being owned by Foxconn," Rob Enderle, principal analyst at the Enderle Group, told the E-Commerce Times. "I expect them to block the deal as a result."