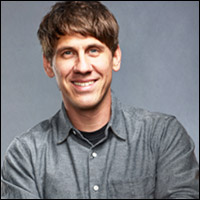 Foursquare on Thursday announced that cofounder Dennis Crowley has assumed a new executive role, and that it has raised US$45 million in a new round of funding led by Union Square Ventures.
Crowley has moved from his perch as CEO into the newly created position of executive chairman, which will let him focus on developing new products. Jeff Glueck, who served as COO for the past year, has taken the CEO helm.
Crowley named Steven Rosenblatt, a four-year veteran of the firm, as president — essentially acting as Glueck's copilot. Rosenblatt will oversee revenue and business-to-business offerings.
"With our business maturing and with our enterprise solutions (Places API, Places Insights) and as programmatic advertising platform (Pinpoint) fueling our revenue growth, I felt like now is the right time to put the strongest executives in the company's top leadership positions," Crowley noted on Thursday.
Recent Turnaround
Foursquare has gained enormous traction over the past 18 months, Glueck pointed out, citing new customer agreements with Apple, Twitter and Pinterest, and an additional 100,000 developers tapping its location data.
Foursquare and Swarm have more than 50 million monthly active users, he said, and check-ins are at an all time high.
The company has launched two new B2B platforms — the ad platform Pinpoint, and Place Insights and Places tools for developers — which reported revenue increases of 170 percent and 160 percent respectively in 2015, according to Glueck.
In the midst of all that recent success, there's a downside. The latest round of funding cuts in half the company's valuation of $650 million, compared with its valuation in 2013, during a prior fundraising period, The New York Times reported.
Foursquare has not commented on valuation and will not do so, said spokesperson Sarah Spagnolo.
However, funding from both inside and outside investors, including USV and Morgan Stanley, "is proof that our business is strong and showing tremendous momentum," she told the E-Commerce Times.
The company is pursuing growth aggressively, with plans to hire 30 additional employees across sales, engineering and other functions, Spagnolo said.
Practical Move
The shakeup is a classical business school maneuver to put control of Foursquare's operations in the hands of some experienced executives who have practical day-to-day management capabilities, observed Charles King, principal analyst at Pund-IT.
"The decision also suggests that Crowley doesn't have the experience or capacity to effectively handle the CEO role," he told the E-Commerce Times. "There's no shame in that — founding a company and running a business are two different processes with very different skill sets."
King said he'd be 'very surprised' if It's likely the new venture capital funders were behind — or even demanded — the change, suggested King.
"I see the move as driven by the new investors," said Kevin Krewell, principal analyst at Tirias Research.
"Foursquare has good location technology and needs to find another outlet for the tech, as competitors have stunted the growth of the original Foursquare app," he told the E-Commerce Times.
Swarm isn't a particularly compelling product, though, Krewell added.
The company now will focus on monetizing its location data, in particular to help target programmatic advertising via Foursquare's Pinpoint ad product, suggested Jay Wilson, research director for social marketing at Gartner.
"The challenge will be keeping that data coming in by keeping users engaged," he told the E-Commerce Times.
That's "a big challenge indeed, given the ubiquity of GPS location capabilities … now found on Facebook, Instagram and other apps," Wilson said.
The company also needs to find innovative marketing applications for Swarm and Foursquare, he said, adding that there hasn't been enough interest coming from mid-tier and enterprise marketers on that front, despite the success Foursquare has had on the local, small business level.
That goal could account for the elevation of Jeff Glueck, who served as CMO at Travelocity, Wilson speculated.
Foursquare deserves praise for hanging tough when it came under fire for failing to live up to the industry hype, maintained investor Fred Wilson, a partner at Union Square Ventures.
Crowley and his team have built a real business that is sustainable, he told the E-Commerce Times, pointing to its location API as the most used in the business.
"You can say what you will about Foursquare — and don't bother because it most certainly has already been said and not very nicely," Wilson remarked, "but it has survived and is thriving."