Ford on Thursday announced the acquisition of Livio Connect, a 5-year-old Michigan company that wields influence in the car connectivity field out of proportion to its size.
That's partly because Livio's technology is used by some major players, including General Motors, and partly because Livio's Keys marketplace is a B2B exchange where automakers can execute and manage business deals with content and app partners.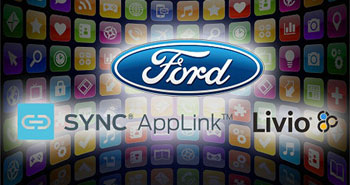 "I believe this is an indication that Ford wants to really own as much of the API connectivity real estate in the car that they can," Roger Lanctot, an associate director at Strategy Analytics, told the E-Commerce Times.
Ford paints the acquisition as a step in its goal to help create an industry standard for in-car connectivity.
"Standardizing in-vehicle connectivity helps ease the burden on content developers who currently have to create applications using different vehicle interface methods [that add] complexity, time and costs to a project," said Ford spokesperson Craig Daitch.
However, the acquisition news is "pretty inconsequential," contended Praveen Chandrasekar, infotainment program manager at Frost & Sullivan.
Although standardization would be a boon, "why doesn't Ford work with the Car Connectivity Consortium, which has many OEMs and suppliers coming together and discussing guidelines and is an industry-led consortium?" asked Chandrasekar.
Looking at Livio
Livio began as Livio Radio in 2008 and later changed its name to "Livio Connect."
It builds products and software tools that support smartphone connectivity to cars and hardware devices including head units and consumer electronics.
The Livio Connect protocol is installed on hardware devices as well as on third-party apps to enable the latter to communicate with enabled devices. The apps receive an unlock key through Livio's authentication server.
Livio's Keys marketplace lets app developers and content owners market their product to car manufacturers. Manufacturers can use it to manage the technology and business models for content and apps going into cars around the world, regardless of the connect technology used. Consumers get promotions, premium upgrades, and free trials of apps and content, which they can purchase at the site.
"The impetus behind the acquisition was threefold," Ford's Daitch told the E-Commerce Times. "It allowed us to bring top-tier local talent to Ford to help us work on our connectivity solutions; gave Ford access to valuable intellectual property; and will help Ford in promoting SmartDeviceLink and other product and technology innovation."
"SmartDeviceLink" is the name Ford gave to its AppLink technology, which it contributed to the Genivi Alliance as an open source project.
Ford "would benefit from Livio's knowledge of what other car companies were working on or trying to do," Lanctot said.
Competition and Other Issues
The problem with Ford's vision of standardization is that "everybody has their own solution," Chandrasekar said.
"GM has 2,500 to 3,000 developers registered who are developing some cool stuff," he continued. "BMW is working with developers in Munich, San Francisco and China. So why would somebody embrace Ford even after they donated their code to Genivi? There has been absolutely no expression of interest."
Further, the CCC has its own protocol, Mirrorlink, which "is now in version 1.1," Chandrasekar pointed out.
Other car manufacturers might not like letting Ford have control over a standard.
"I've heard from a leading OEM who said if they adopt something Ford develops, they will have to rely on Ford to give updates to the system, and Ford will ultimately control the way things are done," Chandrasekar explained.
On the other hand, "this acquisition is simply a great example of our ability to accelerate innovation by scouting new technology and partners," Ford's Daitch maintained, "where these new innovations will drive purchase consideration for Ford and support vehicle profitability through demand for in-car technologies."