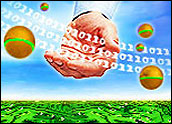 Federal agencies spend considerable portions of their budgets on their legal offices. For example, the U.S. Department of Justice awarded a US$1.1 billion multiyear contract in 2013 for a wide range of information technologies and legal support services.
Yet legal staffs across the federal government are struggling to productively use many of these IT tools, especially e-discovery and electronically stored information, or ESI, according to a recent report from Deloitte.
"It has become increasingly apparent that as government legal professionals contend with increasing volumes of ESI during the discovery process, they recognize the value of e-discovery technology to help manage that data volume. However, when it comes to the details associated with e-discovery tools, processes, and human support, there are gaps that are causing increased concern among attorneys," Deloitte reported.
In its 2013 benchmarking survey on ESI and e-discovery at federal agencies, Deloitte found that "confidence is all over the map" when it comes to using e-discovery. For example, 73 percent of respondents to the survey reported that their confidence in their individual ability to manage e-discovery was either about the same or better than it was in 2012.
That specific finding was "consistent with my experience working with our clients in the federal government," Scott Giordano, corporate technology counsel for Exterro, told the E-Commerce Times.
"They've achieved an impressive level of capability in meeting e-discovery obligations and, as a whole, are on par with their peers in the private sector," he said.
Agency Capability Lacking
However, the staffers didn't feel the same way about their agencies. Only 59 percent of respondents felt their agencies were either "very effective" or "somewhat effective" in dealing with the challenges of e-discovery, as opposed to 73 percent of respondents in 2012 — a marked decline.
Similarly, far fewer attorneys than last year felt confident that if challenged, their agency could demonstrate that its ESI was accurate, accessible, complete and trustworthy. On that question, the "somewhat confident" responses dropped steeply from 68 percent in 2012 to only 38 percent in 2013, while "not at all confident" responses jumped from 23 percent in 2012 to 42 percent in 2013.
"If this is a reflection of reality, I attribute it in large measure to the volume of ESI that must be addressed and the data sources on which it is found. For example, so-called second requests can routinely implicate millions of documents, many of which will come from mobile devices and similar sources," said Giordano.
The survey included 123 professionals across multiple federal agencies, of which 98 were attorneys, followed by IT professionals and paralegals.
In another significant change from 2012, only 53 percent of respondents said they felt adequately prepared to discuss matters regarding e-discovery with opposing counsel, a sharp decline from the 90 percent who answered that way last year. The percentage of respondents who felt they had adequate technical support when dealing with opposing counsel dropped by more than half, from 53 percent in 2012 to 25 percent in 2013.
Pace of IT Poses Problems
Several factors have contributed to the challenging environment that federal staffers face in using ESI and e-discovery. "Federal agencies are now dealing with newer and more complex forms of data, including mobile devices, unstructured data, geospatial data, voice mail and large databases. The complexity of the data, coupled with the volume of data, is where agencies are struggling," Chris May, principal for discovery at Deloitte Financial Advisory Services, told the E-Commerce Times.
Additionally, federal agencies deal with a wide variety of data, including personally identifiable information and classified or confidential information. The U.S. government also is obligated to protect data collected from other countries and citizens. In regulatory proceedings, agencies have no idea of what may emerge from a data request, so they take a worst-case scenario and put maximum protection in place, and this can increase their ESI challenges, he observed.
"Now that the attorneys understand the complexity of the problem — which has taken a while because of changes to the federal rules — coupled with the fact that they also have an ethical obligation to stand behind the statements they present to courts, the problem has become personal. As such, the bar for confidence in the organization has been raised," May said.
To improve performance, federal agencies should establish general standards to address their basic e-discovery workflow that allows for some variances but establishes a common baseline approach, he recommended.
The government can help itself by making sure agencies have access to staff experts — such as attorneys or technologists who understand e-discovery tools, options and obligations.
"Many agencies have already taken the step to hire dedicated e-discovery attorneys," May noted.
Vendors Up to the Challenge
Government agencies are likely to find the ESI and e-discovery offerings they need in current market offerings, according to May.
"In general, the vendors are keeping up by offering new and innovative tools and services. The challenge is for the federal agencies to assess whether these tools and services are a good fit for their standard operating procedure," he said.
"Sometimes an agency has to rework its processes to ensure a smooth implementation of new tools. It's one thing to buy off-the-shelf software, but it's another thing to implement that software in your environment. An effective e-discovery program has three parts: process, people and tools. Too often agencies and even commercial entities focus only on the tools, but ultimately determine they are missing the other two parts of the solution," May pointed out.
"Each vendor typically has a strong suit and looks for different ways to apply that in order to meet changes in the market, such as meeting the e-discovery and information governance challenges brought on by the explosion of ESI growth and the changing nature of where that data comes from," said Exterro's Giordano.
"The e-discovery market has consolidated some in recent years — a trend that will likely continue — but we may see entry by companies with specialties in allied markets, such as information governance. Ultimately, clients will be the beneficiary of these changes as competition drives innovation," he predicted.
The Federal Buzz: IT Acquisition, Cloud Conference
Government IT Purchases: Rep. Anna Eshoo, R-Calif., and Rep. Gerry Connolly, D-Va., have proposed the establishment of a Digital Government Office within the Office of the President that would be required to "consider every proposal of a federal agency for a major information technology project." The DGO would be empowered to handle the project itself or assist agencies in developing specifications and in awarding contracts. The DGO also could allow agencies to manage such contracts themselves.
In addition, the bill carries provisions making it easier for small businesses to bid on federal IT contracts. The Eshoo-Connolly proposal likely will be considered with other IT reform legislation currently circulating in Congress.
"We support efforts to enhance efficiency and effectiveness of federal IT procurement, and we are also strong supporters of policies that increase opportunities for small businesses to contract with the federal government. We welcome the opportunity to work with Reps. Eshoo and Connolly as this bill is considered in the ongoing discussion about federal IT reform," David LeDuc, senior director of public policy at the Software and Information Industry Association, told the E-Commerce Times.
Where Cloud and Mobile Meet: The National Institute of Standards and Technology will host a forum on Cloud and Mobility on March 25-27 at the agency's headquarters in Gaithersburg, Md. Topics include federal perspectives on cloud and mobility; reliability design goals; cloud-enhancing mobility applications; and privacy and security issues.
Contact NIST for registration details.