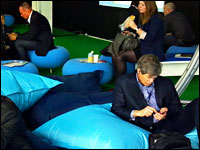 The explosion in the use of mobile devices in the United States is posing a major challenge for the federal government to provide public access to agencies via wireless channels. In an effort to keep pace with technology, the U.S. government launched the Digital Government Strategy in May 2012 with the goal of providing citizen access to federal services and information anywhere, anytime, on any device.
The performance of federal agencies in meeting the goals of the strategy has been mixed. The federal General Accountability Office recently reported on the progress of federal agency actions in responding to mobile device and digital technology issues. GAO focused on a sampling of six federal agencies, and cautioned that its investigation should not be generalized as a definitive report card on the entire federal government. Still, the sampling indicated that agency performance was uneven.
The GAO's report, issued in December 2014, followed a second Obama administration initiative in which the government recognized that federal agencies needed a lot more help in meeting the fast-developing digital technology demands of the U.S. public.
In the follow-up program, launched in August 2014, the White House created the U.S. Digital Service as a resource for federal agencies.
"The Digital Service will be a small team made up of our country's brightest digital talent that will work with agencies to remove barriers to exceptional service delivery and help remake the digital experience that people and businesses have with their government," said Beth Cobert, deputy director for management at the Office of Management and Budget.
Agencies Chip Away at Improvements
On the plus side, the GAO reported that all 24 agencies that were required to meet a number of digital strategy goals have accomplished the task of identifying two or more services to be optimized for mobile use. Additionally, 21 agencies already have optimized two or more prioritized services. Specific examples of performance:
The Federal Emergency Management Agency: FEMA incorporated "responsive design" as part of its migration to a content management system for its DisasterAssistance.gov website, to make it easier for disaster survivors to apply for assistance online using mobile devices. Having ready access to the portal via a mobile device is crucial for those affected by a disaster, especially in the event of extensive power outages. FEMA also has a smartphone app available for Apple, Android and Blackberry devices.
The U.S. Department of Transportation: DoT also incorporated a responsive design when it modified its main departmental website, which included transitioning to a content management system. DoT got an early jump, and went live with the change in September 2012, utilizing a more streamlined approach to facilitate mobile access.
Better Apps: The federal strategy involves more than just redesigning websites to mesh with mobile devices. For example, agencies are encouraged to explore the use of native apps as a convenience to citizens. The National Highway Transportation Safety Administration now offers its SaferCar app, which allows individuals to check for vehicle ratings and vehicle safety defects, as well as locate child car seat inspection stations. The app works with Apple and Android platforms. Also, the National Park Service developed an app for the National Mall and Memorial Sites, which provides tourists with information about historical and cultural sites in Washington, D.C.
The GAO also reported that the federal government still faces huge challenges before it can come close to Amazon or Google in terms of digital capabilities. Some of those barriers:
Information Overload: Government sites filled with a lot of statistics, verbiage, regulations and directions are not helpful for electronic access in general, and especially with mobile devices. Occupying valuable website space with unnecessary information or clutter can be a major impediment, GAO noted.
Navigation: Unnecessary screens and functions prevent consumers from finding the information or services they need within three clicks, GAO said. A related issue is the difficulty of managing several screens. Toggling between multiple screens on a government website, especially when dealing with forms or applications, is more challenging on a smartphone than on a desktop or laptop. In addition, there is the mind-boggling presence of the government on the Internet, with 11,000 federal websites subject to digital modernization.
The digital strategy addresses other operational issues. In the process of identifying services for digital access, agencies were directed to be compliant with new open data, content, and application programming interface policies, as well as metadata tagging. To ensure that improvements are in tune with public expectations, OMB required that agencies implement performance and customer satisfaction measuring tools on all government websites.
The View From Outside
Given the formidable tasks involved in complying with the goals of the digital program, the modest level of agency performance to date is understandable, noted Todd Akers, vice president public sector at Acquia.
"In the few short years since the Digital Government Strategy was released, agencies have made tremendous strides in both understanding how citizens consume and use information, and adopting new technologies like the Drupal open source Web content management system to securely deliver mission-essential information," he told the E-Commerce Times.
"The White House digital strategy set out a great road map and set a great example of how to execute as well. Change doesn't happen overnight, but it is happening, in many cases, faster than expected, considering the challenges agencies must overcome," he said.
Acquia collaborated with the Government Business Council in a 2014 assessment of federal digital and mobile technology performance.
"The GAO report shows that progress has been made towards digital engagement. Both our observations and the report indicate that many agencies are looking to modernize their existing platforms to support a mobile use case," said Tim Young, principal at Deloitte Digital.
A Continuing Process Needed
The current program is a step in federal agencies' evolving approach to the digital world.
"In our experience, this is a good stopgap approach. However, it too often only focuses on adapting the existing experience rather than creating a multichannel experience," Young told the E-Commerce Times.
"An example is noted in the GAO report. PDF forms are a challenge for mobile phone users, often due to the size of the documents. Instead of making large PDF documents available to mobile devices, agencies should rethink how they present information as customers more often use mobile devices to access government information," he added.
Agencies may make immediate progress by moving to responsive platforms, but they will be hard pressed to keep pace with technology if they fail to modernize their processes and policies, Young noted.
"Therefore, digital government progress has to be viewed in [terms of an] agency's ability to create a whole business experience across multiple channels of interaction, including mobile devices and traditional desktop browsers, as well as phone calls and in-person interactions. In the current climate, a transformation to a customer-first model across multiple channels can help agencies control costs and more efficiently engage their customers," he explained.
"Business and IT leaders at agencies need to partner together to design 21st century government. A digitally native experience can create more efficient government, more engaged constituents, and more effective programs," Young added.
"The planning process is critical to the success of these projects. Federal agencies must first explicitly identify and understand what services and information citizens require, based on usability tests, search data, and direct feedback from constituents. Then agencies need to develop a planning document that outlines desired goals and a comprehensive migration road map for the agency's digital experience," Acquia's Akers said.
"Agencies need to consider open source and open cloud technologies — a path that many government organizations have followed to enable faster digital transformation and innovation," he suggested. "Lastly, this process can be very overwhelming for many government organizations that are responsible for hundreds, if not thousands, of online properties. It's advisable to start small and then roll out the process from there — which will result in greater time savings down the road."