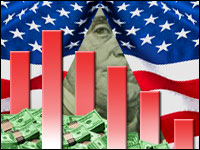 The U.S. government spends tens of billions of dollars each year just to make sure that computer and data processing systems keep functioning on a day-to-day basis. With so much investment allocated for operations and maintenance of legacy systems, it makes sense that far fewer dollars are available for cutting-edge information technology investment — also known as "development, modernization and enhancement" spending.
In fact, O&M spending has been gaining, while DME investments have been shrinking.
"It's difficult to measure exactly, but from a historic perspective, legacy spending has actually increased as a percentage of total IT spending in recent years — from about 68 percent to more than 75 percent," said Shawn McCarthy, research director at IDC Government Insights.
Projected 2016 federal IT spending is roughly US$78 billion, reflecting modest growth for the third year in a row. About $20 billion will be allocated for innovative investments as part of the DME component — a lot of money for IT innovation. However, $60 billion will be used for operating and maintenance, based on IDC's estimates.
On the surface, it appears that O&M spending isn't very sexy, but in reality, big buckets of O&M dollars are being invested in advancing technologies, especially cloud platforms, as agencies seek to improve both efficiency and performance in the normal operating environments of legacy systems.
O&M's Share of Cloud Projects
The government currently is reporting investments in innovative cloud technologies for both the O&M and DME categories, Deltek noted in its budget analysis. Civilian agency spending on cloud platforms in 2015 amounted to $2.31 billion for O&M and $517 million for DME.
The forecast for 2016 is similar: $2.50 billion for O&M cloud projects and $526 million for DME. For the defense segment, 2015 cloud spending amounted to $3.8 billion for O&M and $199 million for DME. The forecast for 2016 is $3.5 billion in cloud technologies for O&M and $323 million for DME.
The increased spending for shared services and cloud platforms in the operation and maintenance category is a result of a concerted federal effort to utilize more innovative IT approaches — an effort the White House mandated nearly five years ago.
Two major factors have contributed to the focus on innovation, according to Deniece Peterson, federal industry analyst at Deltek.
"First, agencies are simply not able to be as innovative as their missions require using the existing infrastructure," she told the E-Commerce Times.
"The innovation mandate began pushing agencies to use their O&M dollars to establish an environment that is more conducive to adopting innovative solutions. One of the major drivers of the policy was the awareness that the bulk of IT spending was going towards infrastructure — but not in the most efficient way," Peterson explained.
Thus, it was almost inevitable that agencies would need to invest a good portion of O&M dollars to update IT infrastructure to support solutions like cloud computing, she noted.
"Secondly, agencies can't afford to innovate only as much as DME budgets allow. They wouldn't get anywhere," Peterson pointed out.
"They've had to be creative and make incremental progress in incorporating new capabilities even within legacy systems," she said, adding that it's easier for agencies to implement innovation by incorporating advanced technologies during the scheduled tech refresh cycles within the O&M process.
Even new spending, when sustained over time, eventually migrates into the legacy component, IDC's McCarthy told the E-Commerce Times. "What you don't want to see is relatively static legacy spending with no performance improvements. That is the type of system that likely needs to be targeted for redesign."
In fact, the administration highlighted the progress being made in innovative IT investments — for O&M and DME spending in both civilian and defense components, as well as for cloud and associated provisioned services — i.e., virtual and hosted resources.
The federal government now spends approximately 8.5 percent of its IT budget on provisioned services such as cloud, on par with leading private sector companies, according to the Office of Management and Budget. That share of the IT budget amounts to around $7 billion.
Innovation in IT Gets Solid Support
Several agencies are projecting significant spending on cloud projects in their O&M budgets for 2016, along with lesser amounts for cloud-based DME projects.
For example, the Department of Homeland Security is allocating $446 million in cloud investments for its O&M component, and $42 million for the DME component. At the U.S. Department of Labor, the cloud breakdown amounts to $282 million for O&M and $116 million for DME, while at the U.S. Treasury Department, the O&M portion is $299 million and the DME share is $31 million. Projected 2016 cloud spending at the Department of Housing and Urban Development includes $144 million for O&M and $21 million for DME expenditures.
Meanwhile, the U.S. Commerce Department plans to spend a total of $216 million on cloud IT in 2016, with the largest portion, $151 million, going toward DME investments.
The takeaway for vendors is that federal operations and maintenance IT spending will include significant investments in cloud and advanced technologies, and that federal agencies overall are becoming more aggressive in making cloud investments, whether they're allocated for O&M or DME.
Another factor that should spur IT innovation spending at the federal level — not only in 2016 but in years to come — is an ongoing commitment to improving performance, which underscores White House mandates and rhetorical exhortations directed at federal agencies.
The 2016 budget calls for spending $105 million on the administration's newly created U.S. Digital Service, a program that recruits outside IT experts to work for the government, assisting agencies in improving their electronic information programs.
Funding for 2016 will be used to institutionalize modern digital services principles and practices across the federal government. The 2016 allocation will incubate digital service teams within 25 major agencies. Those teams will be dedicated to driving the quality, effectiveness, and cost savings of each agency's highest-impact digital services, according to OMB.
The Federal Buzz: Education IT Contract; Cyber Budget
Federal Student Aid IT: General Dynamics One Source has been awarded a contract to provide information technology support for the U.S. Department of Education's Application and Eligibility Determination Systems, which support the management of applications for student aid. The department made the award to the company following a two-phase selection process, General Dynamics' spokesperson Yvonne Hylton told the E-Commerce Times.
The contract objective is to establish a performance-based business arrangement in support of maintaining an efficient, effective, and responsive IT platform to host and support the AEDS' operations. The four-year contract has a potential value of $122.8 million.
Cyber Spending: The administration's 2016 budget calls for investing $582 million for Continuous Diagnostics and Monitoring and EINSTEIN programs for thwarting cybersecurity attacks, OMB revealed in its Annual Report to Congress on the Federal Information Security Management Act.
EINSTEIN is an intrusion detection and prevention system. Agencies of the U.S. government reported nearly 70,000 information security incidents in 2014, a 15 percent increase from the prior year, according to OMB, which noted that the year was marked by sophisticated threat activity.