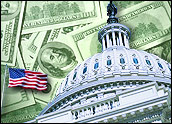 How much do federal agencies need to spend on data center consolidation investments now, in order to save money later?
It could be quite a lot.
The U.S. Department of Labor, for example, figures that US$60 million or so will do the trick in meeting its data center consolidation goals.
Last month, DOL awarded a contract with a potential value of $59.4 million to Lockheed Martin to increase energy efficiency through consolidation of the department's key data centers. Under the seven-year, indefinite delivery and indefinite quantity contract, DOL data centers will be moved to a secure data center and ultimately to the cloud to meet requirements of the Federal Data Center Consolidation Initiative (FDCCI).
"Lockheed Martin has a record of implementing data center consolidation for DOL and we are excited to extend our services across the agency," said Frank Armijo, vice president of Lockheed Martin Energy Solutions. "We understand that data center consolidation, cloud, and other green information technology practices can help our customers save energy and get more out of their budgets," he said.
Big Investments Predicted
The hefty investment by DOL indicates that even in an era of tight budgets, federal agencies are willing to invest in IT projects that have significant long-term payoffs, and DOL is not alone. At a recent federal IT outlook conference sponsored by Deltek, Kenneth Nesbit, associate CIO for the U.S. Treasury Department, listed data consolidation efforts as a top priority for the department. "When you look at the entire department, including the Internal Revenue Service, our data consolidation investments should be in the same range," as the Labor Department, Nesbit told the E-Commerce Times.
"Lockheed Martin is square in the middle of several major consolidation initiatives. We know that the federal government is going to continue down the path of IT consolidation as executive orders and cost reductions drive agencies to think about their IT resources in innovative ways," Glenn Kurowski, vice president of the health and life sciences group at Lockheed Martin, told the E-Commerce Times. "These recent awards are a strong indicator that these trends are beginning in earnest."
The objective of the Federal Data Center Consolidation Initiative is to significantly reduce information technology costs related to computer operations, real estate usage, and energy consumption by eliminating redundant or underutilized data storage facilities, server deployments, and related capabilities by combining and sharing federal resources. The goal is to close 1,200 centers out of nearly 3,000 by 2015. So far about 380 have been shuttered.
But the DOL project pales in comparison to the breathtaking $15 billion that the Centers for Medicare and Medicaid Services (CMS) plans to spend on improving its data management capabilities, including data center consolidation in its Virtual Data Center (VDC) project. Last month CMS selected eight primary contractors to participate in the VDC program. Functions covered include hosting, enterprise services, telecom and networking, disaster recovery, security, infrastructure software, and personnel seat management tasks.
"Today, CMS uses significant data center capacity provided by industry to support the IT infrastructure requirements of the agency. The need for these industry resources will continue to grow as the beneficiary population continues to increase and legislative mandates increase expectations of CMS to control healthcare cost, improve health outcomes, and enable beneficiaries as consumers," CMS said in its project description.
Right now the agency's industry resources are decentralized and operated under multiple contractual vehicles "which present CMS with barriers to establishing interoperability between data centers, implementing standard processes and procedures for data center oversight, and ensuring compliance with CMS standards for all data center operations," CMS said. To resolve these issues, CMS wants to establish a group of "geographically dispersed, world-class data centers owned and operated by a broad pool of industry partners but under the control of a single procurement vehicle," the agency said.
The project will help CMS meet the Obama Administration FDCCI requirements to streamline data center operations. CMS says its goal is to integrate these contractor-owned data centers in a way that "allows them to function as a unified set of resources that collectively will be referred to as the Virtual Data Center."
The contractors selected by CMS who will be eligible for task order contracts are: Accenture Federal Services; Buccaneer Computer; Companion Data Services, CGI Federal, HP Enterprise Services, IBM U.S. Federal, Lockheed Martin, and National Government Services.
The CMS contract "is consistent with and supports the government's continued focus and priority on data center consolidation and virtualization to leverage economies of scale and increase performance, while driving down costs and increasing efficiencies with IT," Ed Meehan, managing director of Accenture Federal Services, told the E Commerce Times.
Broad Market Concept
Specific market forecasts for federal investments in data center consolidation are hard to compile because the term covers a broad range of IT applications and initiatives, such as migration of some applications and environments to the cloud; IT planning, design, consulting, and integration; storage hardware; virtualization applications, according to Angie Petty, a senior principal analyst at Deltek.
On an anecdotal basis, Petty reported the possible award of 23 federal contracts for some aspect of data center consolidation after October 1, 2012, showing a pick-up in the pace of agency interest in the technology from previous periods.
"Agencies are now in a better strategic position to move forward with more complex data center consolidation projects, now that inventorying and planning are complete. Much of the action to date has been with smaller data centers and low hanging fruit," Petty told the E-Commerce Times. "However, their challenge will be implementation in the face of tight budgets. Consolidation takes investment. And although the ROI may be clear, finding funding upfront may be difficult," she cautioned.
Vendors Must Look at Agency Needs
"Vendors interested in data center consolidation should start with their current federal clients to assess their consolidation needs. Consolidation efforts are sometimes difficult to spot due to the fact that they cover many IT areas," Petty said, "so, vendors should not limit themselves to only searching for IT opportunities that specifically mention consolidation."
The anticipated level of federal investment in data center consolidation is an indication that such spending will generate satisfactory returns. But accounting for those returns is still problematic.
"The spending indicates that a positive return on investment can be achieved, but the missing piece is that agencies don't always do the follow-up work that's necessary to get these savings," Shawn McCarthy, research director for IDC Government Insights, told the E-Commerce Times. "For example, if a new cost-effective solution is built, is the old system actually retired and the older facility closed? Does the system live on in some other form, and does the building remain on the agency's books? Positive ROI looks good on paper, but follow-up enforcement is needed if true savings are to be achieved."
Both to encourage investments in data center consolidation, and to force agencies to do their homework on assessing the value of projects, the General Services Administration issued a detailed protocol for implementing the initiative in late September. GSA is managing the FDCCI program. Under the protocol, agencies will be required state their data consolidation goals. They also will be required to prepare detailed operational reports and cost-benefit analyses — including energy, real estate, rack space, and server utilization factors.