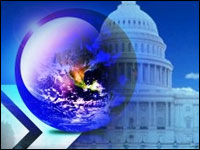 The U.S. General Services Administration selected more than a dozen companies to provide cloud-based information technology products for federal agencies last month, signaling a concrete investment in the cloud environment and underscoring the federal commitment to using the technology. GSA said it would make a total of US$122 million available for two programs.
"Cloud computing services help to deliver on this administration's commitment to provide better value for the American taxpayer by making government more efficient," said Federal Chief Information Officer Vivek Kundra.
"Cloud solutions not only help to lower the cost of government operations, they also drive innovation," he noted.
GSA revealed the vendor selections for both programs in late October.
The first program, utilizing GSA's Blanket Purchase Award (BPA) process, is for cloud-based Infrastructure as a service (IaaS) support for the agency's Apps.gov platform. The award enables vendors to provide government entities with cloud storage capability, virtual machines and Web-hosting services to support a continued expansion of government IT into cloud environments.
The IaaS offerings will include on-demand self-service that allows government entities to utilize — or discontinue — IT products as needed. The support also includes the capability of pooling for practically unlimited storage and automatic monitoring of IT resource utilization. Additionally, the offerings will be provided with rapid elasticity for real-time, customizable scaling of services, and automatic provisioning of virtual machines, storage and bandwidth.
Blanket Plan Simplifies Procurement
The BPA mechanism makes each vendor selected for the program eligible to provide cloud services for one or more agencies. The BPA has a duration of five years and an aggregate spending level of $76.5 million, which will be split among the selected vendors. Spending per vendor depends on how many individual contracts s each vendor obtains from various federal agencies. The BPA system helps to streamline procurement by, in essence, prequalifying vendors, so that individual agencies don't have to repeat the process over and over.
The BPA selections involve individual companies as well as partnerships offering combined capabilities. The selected vendors: Apptis Inc. partnering with Amazon Web Services; AT&T Government Solutions; Autonomic Resources partnering with Carpathia, Enomaly and Dell; CGI Federal; Computer Literacy World partnering with Electrosoft, XO Communications and Secure Networks; Computer Technologies Consultants partnering with Softlayer; Eyak Technology partnering with Horizon Data Center Solutions; General Dynamics Information Technology partnering with Carpathia; Insight Public Sector partnering with Microsoft; Savvis Federal Systems, and Verizon Federal.
Prior to making the IaaS products available through Apps.gov, vendors must complete a certification and accreditation process at the "moderate impact" level outlined in the Federal Information Security Management Act (FISMA). Once granted authority to operate, services will be made available for purchase by government entities through the Apps.gov storefront.
The second program involves Data.gov, the federal government's centralized resource that provides public access to various data sets generated by federal agencies.
"Data.gov was one of the first government websites to move to the cloud. Now, we are taking it to the next level," said Sanjeev Bhagowalia, deputy associate administrator for GSA's Office of Citizen Services and Innovative Technologies.
"Moving datasets to the cloud changes the landscape of how agencies share — and the public uses — their data," Bhagowalia continued. "By putting the tools in place to help the public put government data to work, we are using innovative technologies to build a more open, transparent, and collaborative government."
With the enhanced capability, agencies will post data directly to the cloud. This will free up valuable agency server space and ensure that a higher volume of users can access the data, GSA said. Agencies that have not had the infrastructure necessary to provide information on Data.gov will be able to share their data for the first time in a secure, reliable environment.
Consolidation of all the data in the same place will allow users to reach across agency lines and pull out what they are specifically looking for without having to download an entire dataset. In addition, data will be available via feeds, so that application developers and others can receive requested data directly from Data.gov.
The site will also feature social networking tools to allow discussion about datasets, data virtualization and analytics tools, mash-up support, multiple-format data conversion, improved search capabilities and Web publishing.
GSA also used a BPA mechanism for the Data.gov cloud procurement, with a total funding level of $46.5 million. The selected vendors: Alamo City Engineering Services; CGI Federal; Eyak Technology; Qbase; and Smarttronix.
GSA Backs Up Policy With Investment
The contract awards are components of an ongoing GSA effort to facilitate the use of cloud technology through various policy, technical guidance and procurement initiatives.
"In a sense, this is part of a process of putting our money where our mouth is," GSA's Bhagowalia told the E-Commerce Times. "Wherever we can help agencies with IT support that is faster, better and greener, we will provide support mechanisms."
Vendors understandably view the GSA effort to back up its policy of supporting cloud technology with an actual procurement as a positive step in an evolutionary process.
"The government had clearly signaled a significant commitment to the technology by creating the Federal Cloud Computing Initiative, the Apps.gov portal and other steps," Bill Perlowitz, vice president of the advanced technology group at Apptis, told the E-Commerce Times.
"The blanket purchase award for IaaS support provides the mechanism for federal agencies and state, local, and tribal governments to procure cloud services with standardized offerings and with uniform terms and conditions that are consistent with the government's evolving road map," he said.
"This process will help prevent the generation of multiple installations of cloud services that would require homogenization to fully realize cost savings across the government, and is the natural progression of the government's commitment to provide high quality, readily accessible, and secure cloud services," Perlowitz explained.
"As technology evolves, the federal government keeps looking for innovative solutions to continuously increase the speed, quality, effectiveness and efficiency of its operations," George Schindler, president of CGI Federal, told the E-Commerce Times.
"The administration and GSA made cloud computing a priority and moved quickly — from a proposal in the 2010 budget to the recent GSA procurement awards — to make sure agencies could tap into robust, on-demand, secure solutions that meet the unique needs of government," he added.
"The critical success factors for making the cloud a reality in government are ensuring that agencies have control over their environment and can design, provision and scale it as needed, while maintaining security and delivering the savings that make the technology an attractive technology option," Schindler said.
"The IaaS award will enable government agencies to shift to more efficient cloud computing platforms to grow their existing infrastructure," noted Keith Gordaoff, CEO of Eyak Technology. "Allowing agencies to pay for what they actually use without hardware or startup costs — to grow and shrink services, and reduce usage when required — creates a low-risk environment and a more efficient way to use computing resources."
The two blanket purchase awards for cloud technology appear to be building blocks in GSA's overall strategy for broad utilization of the cloud throughout the federal government.
For example, the agency is conducting a major effort to facilitate the migration of federal agency email systems into a Software as a Service cloud environment.
GSA awarded a contract for converting its own email system to a cloud platform earlier this month, awarding the $6.7 million, five-year contract to Unisys in partnership with Google.