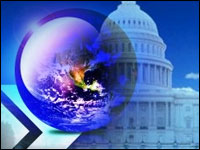 The U.S. Securities and Exchange Commission is seeking a broad range of information technology products and services with a potential contract value of US$80 million over 10 years. That's a nice chunk of business, and it's just one of many potential federal IT contracts now available.
In addition to providing these opportunities, federal agencies have remained active in awarding major IT contracts to companies such as Accenture, Salient Federal Solutions, and Smartronix. For vendors, this steady level of federal business is good news given all the concern about budget tightening.
Agencies are not starting from scratch, and funding for many investments has been anticipated for more than a year. Still, continuing budget discipline will ensure that spending will be done at prudent levels — and there are some signs that the federal "sequestration" process is starting to pinch.
Opportunities Stress Efficiency
On the contract opportunity front, the SEC proposal is one of the more attractive projects on the short term horizon.
The SEC's primary goal is to acquire a range of IT application development and support services. The agenc's request for proposal says vendors "should elaborate on their capabilities and experience with content and document management systems, externally hosted solutions, systems integration with internal and external systems, shared service providers, handling of confidential data, mobile interfaces, business intelligence and data analysis."
Potential contractors should demonstrate their experience in Big Data and cloud computing, the agency said. The SEC has extended the vendor response deadline several times to its current date of April 30, 2013.
In addition to the broad IT services proposal, the SEC has issued a separate requirement for upgrading its EDGAR financial information data base. Both initiatives will "enable the continuation of our enterprise modernization efforts," Pamela Dyson, SECdeputy chief information officer, told the E-Commerce Times.
"Specifically, they each ensure the SEC is consistently enhancing and improving core systems and technology," she said. The SEC's proposals stem largely from its own assessment of requirements, but also reflect the general federal effort to improve IT management.
"We will continue to aggressively leverage the cloud when and where appropriate, eliminate system and data silos, and most importantly, allow the public to access information in an efficient and user-friendly manner. We have made significant progress to date and these actions will help ensure we continue to evolve," Dyson said.
Another intriguing opportunity is available at the U.S. Patent and Trademark Office within the Commerce Department. USPTO is seeking information from IT vendors about moving its storage infrastructure to a managed service model.
Program objectives include reducing infrastructure outages and downtime, and having a single accountable entity responsible for the storage program. Functions include hardware and software management, data bunkering, and disaster recovery operations.