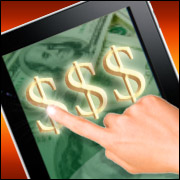 Adblock Browser for Android re-emerged at the Google Play store on Wednesday, after more than two years of banishment. It is also available at the iTunes App Store.
"The reason we were readmitted to the Play store is that this app is different than the one that was kicked out. This one is a browser. The previous one provided some blocking for in-app ads," said Ben Williams, head of operations and communications at Eyeo.
The Adblock Browser uses built-in technology with similar features to block ads on both Android and iOS devices. The developer, Eyeo, also offers Adblock Plus, a browser plug-in for PCs. Adblock Plus has some 50 million monthly active users worldwide, according to Eyeo.
Ad blockers pose a challenge to online publishers and app developers that rely on advertising revenue. The Adblock Browser has a whitelist feature that allows users to admit so-called "acceptable ads" into view, but convincing users to do that may not be easy.
"I think that Adblock is a huge short-term threat to publishers and advertisers, " Jason Bauman, junior SEO associate at Trinity Insight, told the E-Commerce Times. "The availability means that it is easier than ever to block ads, and because of privacy concerns and the general invasiveness of modern advertising, people are less worried about the moral implications of blocking ad revenue."
Threatening Situation
Adblock Plus has been a threat to advertisers and Web publishers for some time, noted David Grau, creative director of Hopscotch, and the introduction of the Android and iOS apps could force a change in advertising strategies.
"It is a blaring sign to show there has to be a better way of integrating advertising, whether it is in-app purchases or sponsored content," he told the E-Commerce Times.
Ad-blocking technology is like Napster in the music industry, and the best way to combat blocking is for advertisers to embrace it, Grau suggested. "Understanding the audience, and asking 'why would I block this?' are ways to navigate through what works and what will not work very easily."
Status Quo Risky
What's needed is an alternative to stale and ineffective advertising tactics, emphasized Eyeo's Williams.
"Adblock Plus is not a threat to anything but the status quo in advertising, which is not particularly worth saving anyway," he told the E-Commerce Times. "If people were pleased with the status quo, we would not be averaging almost 3 million downloads per week. Each of those downloads is a demand for better ads."
Eyeo supports acceptable ads. In brief, ads are designated "acceptable" if they are not annoying, do not disrupt or distort page content, are transparent about being an ad, are effective without shouting, and are appropriate to the website where they're displayed.
"Ads are necessary, but they must necessarily evolve based on user demand," Williams said.
Ads that don't meet the "acceptable" criteria likely fail to be effective, in any case.
"Now is the time for the age of creative mobile advertising strategies to shine," said Guillaume Lelait, general manager at Fetch.
Intrusive ads produce a weak ROI compared to creative native campaigns, he told the E-Commerce Times, and "they leave users with a sour taste in their mouth toward the brands that may linger indefinitely."
Fight or Adapt?
The overall impact of ad blockers has yet to be seen. Adblock Plus focuses its efforts on aggressive advertising tactics like pop-ups and malvertising, according to Brian Copening, executive vice president at 10x Digital Marketing.
"Those advertisers who use tried-and-true methods to deliver useful content by sponsored ads will most likely see little impact," he told the E-Commerce Times. "In fact, by reducing the amount of aggressive advertising — which desensitizes users to ad-related content — quality online advertising may improve."
Product placement, edutainment tactics and native-sponsored content are ways to get around generic ad blocks, noted Sajeel Qureshi, vice president of operations for Computan.
"We are in an age where consumers trust strangers reviewing a product versus a brand reviewing a product. Ad industries are doubling down on things like content marketing and paid editorials to negate the decreasing ROI on generic ads," he told the E-Commerce Times.
Battling Blockers
Almost 200 million people use ad blockers. Many of those users are millennials — the same group that spends a lot of time on mobile, noted Eyal Pfeiffel, CTO ofImperson.
"This is a big threat to advertisers and publishers — that is, unless they can find other ways to engage with consumers without annoying them," he told the E-Commerce Times.
The advertising industry will need to find new ways to engage with their consumers. Using marketing content that is well integrated into the app experience in a natural, and even entertaining way, would represent a big step forward, Pfeiffel suggested.
"At the very least, they need to create ads that are nonintrusive and not annoying," he said. "Consider the act of branding geofilters on Snapchat. This gives the user the opportunity to see the ad, share it, use it or not. Give consumers a choice, and put the ad experience in their hands, and advertisers will be better off."