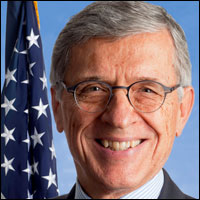 Some proposed rules that the Federal Communication Commission maintains will prevent content discrimination on the Internet drew fire on Thursday from two policy interest groups.
A four-page "fact sheet" on the rules was released Wednesday by FCC Chairman Tom Wheeler. In it, the chairman outlined what he's proposing to the full commission, which is expected to vote on the rules February 26.
This latest proposal is the FCC's third try at creating a scheme for guaranteeing that Net neutrality is maintained by broadband providers. Both previous sets of rules were overturned by the courts.
This time, though, the FCC is taking a different approach to its rule making, by reclassifying broadband services under provisions of a law — Title II of the Communications Act — that gives it greater authority to enforce Net neutrality.
"Using this authority," Wheeler wrote in an op-ed on Wired on Wednesday, "I am submitting to my colleagues the strongest open Internet protections ever proposed by the FCC."
"These enforceable, bright-line rules will ban paid prioritization, and the blocking and throttling of lawful content and services," he continued. "I propose to fully apply — for the first time ever — those bright-line rules to mobile broadband."
"My proposal assures the rights of internet users to go where they want, when they want, and the rights of innovators to introduce new products without asking anyone's permission," he added.
Broadband Backlash
To some minds, however, the reclassification gambit is a power grab with a downside for some broadband providers and consumers.
"Net Neutrality has always been a justification for the real agenda, which getting the FCC larger authority," Berin Szoka, president of TechFreedom said at a news briefing Thursday.
Szoka, joined at the briefing by Geoffrey Manne, executive director of the International Center for Law and Economics, maintained the new rules would hurt small broadband providers and consumers at the broadband margins.
"The burdens of Title II will fall most on small broadband providers," Szoka said.
In anticipation of those burdens, providers will begin reorganizing and changing their procedures, Manne reasoned. "To the extent that really plays out in any appreciable way, it's mostly going to happen for these small ISPs," he said, "some of whom will lose their expectations around investment, in particular, and probably some of them will shutter."
That will affect consumers on the margins. "If you live in an area that's not particularly profitable, broadband companies are likely simply to delay investment in your area," Szoka said. "That most likely means that the telephone companies that have been starting the process of upgrading their DSL networks are likely to delay their investments."
Bloated Authority
Carefully crafted rules could address the concerns of small broadband providers. "We have encouraged the FCC to insure that any rules that are particularly onerous or burdensome only apply to larger ISPs who have more potential to cause discrimination," noted Jeremy Gillula, a staff technologist with the Electronic Frontier Foundation.
"That said, it doesn't seem like the proposed rules would cause any burden on any ISP," he told the E-Commerce Times.
Potential pain spots for ISPs can be addressed by something called "forbearance," where the FCC can choose not to enforce certain provisions of Title II for a number of reasons. "A number of respected Wall Street analysts, along with senior executives at ISPS, have said that Title II with forbearance is unlikely to have any negative effect on value or profitability of ISPs, large and small," FCC spokesman Mark Wigfield told the E-Commerce Times.
A concern of both Szoka and Manne is that once broadband service is reclassified, the FCC will use its Title II authority to move into areas far beyond protecting Net Neutrality. "By bloating the scope of the rules, the FCC is already going down the road of expanding what they're applying Title II to cover other services."
"As soon as we abolish the current line, the new line really will exist only in the mind of whomever happens to be chairman at the time," he added. "Today it could be broadband and Net Neutrality; tomorrow it could be regulating interconnected services like Netflix or VoIP or gaming or telemedicine."
Once the rules are adopted, they will most certainly be challenged in the courts as they have been in the past — a process that probably won't be resolved until the middle of 2016, or later.
"Some companies have threatened lawsuits," Christopher Lewis, vice president for government affairs for Public Knowledge, told the E-Commerce Times, "but we feel very confident that when you classify broadband as a Title II service, it's probably your strongest chance to pass a court challenge."