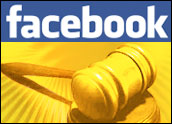 The Federal Trade Commission is investigating Facebook's latest overhaul of its privacy policies, The New York Times reported on Wednesday.
"We're monitoring compliance" with an FTC order issued previously against Facebook, said FTC spokesperson Peter Kaplan. Part of that "involves interacting with Facebook," Kaplan added.
That order was part of Facebook's 2011 settlement with the FTC over charges that it deceived consumers by failing to keep its privacy promises.
Among other things, the settlement bars Facebook from making any further deceptive privacy claims; requires that it get consumers' approval before it changes the way it shares data; and stipulates that it must have its privacy practices audited periodically by independent third-party auditors for 20 years.
A coalition of privacy advocates led by the Electronic Privacy Information Center complained to the FTC on Sept. 4 about Facebook's privacy policy changes, and Sen. Edward Markey (D-Mass.) wrote the Commission expressing concern about the new terms.
Facebook's Latest Action
This latest brouhaha follows on from a Statement of Rights and Responsibilities Facebook recently unveiled that's designed to serve as the company's new terms of service.
One clause, for instance, says essentially that users give Facebook carte blanche to use their names, profile pictures, content and information in connection with commercial, sponsored or related content served or enhanced by Facebook, without any compensation.
Another states that if a Facebook subscriber is under the age of 18, that subscriber represents that at least one parent or guardian has agreed to the SRR and the use of the subscriber's personal information.
Faux Pas or Force Majeure?
"The new policies assert that users give Facebook permission to use their name, profile picture, content and information in connection with commercial, sponsored or related content," John Simpson, privacy project director at Consumer Watchdog, told TechNewsWorld.
"That pretty much opens the door to any practice Facebook wishes to engage in," he continued.
After all, the changes "will allow Facebook to routinely use the images and names of Facebook users for commercial advertising without consent," Simpson pointed out. "Before the changes, users were told how to limit the use of their information."
In their letter, the privacy advocacy groups stated that the changes resulted from a class-action settlement in which the plaintiff's lawyers granted Facebook a right that was contrary to the company's policy at the time the litigation was initiated.
That case wasFraley v. Facebook, which alleged misappropriation of the names and likenesses of the social media site's members via its use of them in advertisements called "sponsored stories" without their consent.
Facebook settled the case by paying US$20 million into a fund that could be used to pay the claims of class members.
Lawyers Forced to Go to Law
The settlement included a clause stating Facebook would change the SRR to inform users they can be used in sponsored stories.
That effectively opened the door for Facebook, the advocacy groups claim.
"The lawyers in the class action suit were more interested in lining their pockets than in protecting the interests of the class they purportedly represented," Consumer Watchdog's Simpson said.
Facebook did not respond to our request to comment for this story.
Doing the Right Thing
It could be argued that Facebook is only exercising its rights by amending the SRR.
The privacy advocates don't buy that argument, however.
"Nevertheless, the Sponsored Stories settlement does not override the FTC Consent Order, and the Commission must enforce it," Simpson stated.
The order specifically bars Facebook from making misrepresentations about the privacy or security of consumers' personal information and requires the company to obtain consumers' affirmative express consent before enacting changes that override their privacy preferences.
"We had a meeting with the FTC yesterday," Simpson said. "They just listened to us."
Meanwhile, the commission "is gathering information and I am optimistic that [it] will act vigorously to enforce its consent order with Facebook," Simpson added.