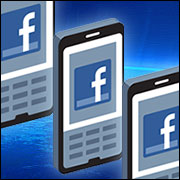 Facebook, which already has a long history of skirmishes with privacy advocates, may be heading toward another fight following reports that the company is working on a mobile location-tracking app.
The app, set for release in mid-March, would reportedly run in the background even when other apps are running on a smartphone or when the smartphone is not in use, according to Bloomberg.
Facebook is ramping up its marketing efforts to reflect the fact that more consumers check in to social networks via mobile devices. The app could help Facebook sell location-based ads, but it could also reignite concerns among consumers about how the social network uses their personal information.
Tracking the Growth of Mobile Use
The team developing Facebook's location software is led by Peter Deng, formerly of Google, Bloomberg reported. It also includes engineers from two Facebook acquisitions: Glancee, an Italian location-tracking startup, and Gowalla, a location-based social network company.
Facebook already offers the Nearby mobile discovery app to businesses, but it is planning to beef up its mobile products suite. During a Jan. 30 call with analysts, CEO Mark Zuckerberg said Facebook will focus this year on mobile apps.
Mobile is a growing area for Facebook, which reported 680 million monthly active users on mobile at the end of last year. Mobile daily active users on Facebook exceeded those on the Web for the first time in the last three months of 2012.
The need to focus on mobile was heightened by advertisers' adoption of social media during last Sunday's Super Bowl. Facebook was mentioned in only four of 52 national TV commercials during the game, or 8 percent, while Twitter was mentioned in 50 percent of the ads, according to the Marketing Land website.
No Need to Get Your OK
Facebook may not need to ask its users' permission to track them.
In a section of Facebook's data use policy, the company says it may put together data about users for marketing and advertising purposes.
Facebook spokesperson Ana Brekalo declined to comment for this story.
"Facebook knows that it has some trust issues with users because of privacy missteps in the past," Justin Brookman, director of the consumer privacy project at the Center for Democracy and Technology, told the E-Commerce Times. "Whether or not their current data use policy allows for this, I highly doubt they're going to turn it on by default. The backlash wouldn't be worth it."
It's doubtful that the app would continue tracking users' locations in the background even when it's not being used, Brookman added, because of privacy reasons and the fact that doing so would consume too much battery power.
But Everyone's Doing It
If Facebook is indeed working on such an app, it may not be that different from what's already being offered by Apple and Google.
Apple's Find My Friends app lets users on devices running iOS 5 or later get the locations of friends and family members. Find My Friends is optimized for the iPhone 5, but is also compatible with the iPod touch and iPad.
A GPS Phone Tracker app on iTunes lets users follow people worldwide — with their permission — through their iPhones or iPads. The app tracks locations to within 30 feet, logs locations from every two minutes to every hour, attaches photos to identify users on maps, and uses satellite maps or street maps. The paid version can follow up to 10 iPhones and map their movements for up to 48 hours.
Google offers Google Latitude, which is part of Google Maps for mobile. The app is available for Android, iOS or the BlackBerry. Users can control who sees their location and at what level of detail, and they can share, set or hide their location at any time.
However, "there's no real indication that that's what [Facebook's] planning," Brookman pointed out. "The sources in this story are fairly vague."