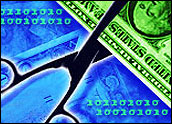 The fallout from Facebook's May IPO continued Tuesday as venture capitalist Paul Graham of Y Combinator warned Silicon Valley startups that they may be in for a stretch of hard times.
In Graham's letter to Y Combinator companies, he states that a prominent investor he knows seems sure that the bad performance of the Facebook IPO will hurt the funding market for early-stage startups, but that no one knows yet the extent of the damage that might be caused.
Later, fellow venture capitalist Fred Wilson of Union Square Ventures put a different spin on Graham's statements in his own blog.
Just how badly will Facebook's weak debut hit Silicon Valley in general? Does it make sense to extrapolate from Facebook's experience and apply that to early startups when Facebook isn't itself an early startup at all?
Graham's Cracker
Graham warns that it may be harder for companies to raise money, and companies that previously raised money at high valuations will now face "down rounds," which could be damaging.
A down round occurs when investors buy a company's shares at a lower price than what they were valued at before. This causes a dilution of ownership for existing investors and may reduce the value of the founders' stock or options.
Graham warns that startups that haven't raised funds yet should lower their expectations. They should be flexible about the valuation they expect and the amount they want to raise. Startups should talk to investors first about whether they want to invest at all, then negotiate the price.
Startups that raised money in an equity round at a high valuation may find that they can only get more funds at a lower valuation, Graham stated. Startups that will get hit hardest are the ones that raised a lot of money on easy terms and then pay little attention to profitability.
Mr. Wilson's War
However, Union Square's Fred Wilson speculates the fallout from Facebook's IPO will have more impact on late-stage and secondary markets, where there's lots of speculation on IPO valuation.
At Facebook's Monday closing price of US$26.90, the company commands a valuation of $57 billion, Wilson said. It had about $4 billion in cash on hand and raised about $10 billion, so assuming Facebook has $14 billion in cash on the books, it has an enterprise value of about $43 billion. Annualizing Facebook's last-quarter revenues of $1 billion and pre-tax operating margin of 40 percent, this more or less means that Facebook's enterprise value is greater than 10 times its current revenue run rate and greater than 25 times EBITDA, and Wilson expressed satisfaction with those numbers.
EBITDA is the acronym for earnings before interest, taxes, depreciation and amortization. EBITDA's widely used in loan covenants. It's also used as a starting point on which future growth is applied and future profitability discounted back to the present. During the dot-com bubble over a decade ago, companies promoted their stock by emphasizing either EBITDA or pro forma earnings, disregarding their income figures.
Facebook's Pain
Graham's note to Y Combinator companies is yet another blow against Facebook. The company's share prices are sliding, it's facing angry investors filing lawsuits, and doubt about its future are growing. Ironfire Capital founder Eric Jackson has reportedly stated that the company will be dead in five to eight years.
Jackson is a dissident shareholder who led a revolt against Yahoo's board, launching a plan under which holders of the company's stock pledged their shares to a group that would approach Microsoft directly to ask it to purchase Yahoo.
What's Early-Stage Got to Do With It?
There is disagreement, however, over whether Facebook's IPO performance will reverberate all the way down to early-stage startups. To Larry Chiagouris, professor of marketing at Pace University's Lubin School of Business, Facebook's fumble has much more to do with the actual execution of IPOs.
"I think the VCs that matter are already quite prudent about how they go about investing [in startups]," he told the E-Commerce Times. "I would not apply the Facebook episode to all early-stage companies. I would suggest that it is relevant to the pricing of initial offerings and thus I would suggest management become smarter at pricing initial offerings."
Although "there was a lack of interest by a lot of institutions in [Facebook] and its valuation" and institutional investors "had question marks about its future revenue stream and growth of that revenue stream," the social networking giant's IPO experience shouldn't affect the IPO market, Darren Hayes, CIS Program Chair at Pace University, who spent a decade in the financial services industry, told the E-Commerce Times.
"There have been plenty of successful Internet IPOs," Hayes pointed out. "I think [the Facebook IPO] is really fraught with mistakes by Morgan Stanley, and I don't think it's going to have serious repercussions for the IPO market, but for Morgan Stanley as an investment banker."
Facebook's post-IPO troubles are due more to the high pricing of its May IPO, Chiagouris. "For the vast majority of investment opportunities and investors, I think that the Facebook IPO experience will be irrelevant."
Y Combinator's Graham, Union Square Ventures' Wilson, and Ironfire Capital's Jackson did not respond to our requests for further details.