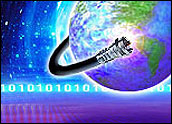 How is broadband doing as a market? The two largest providers in the United States are Comcast and AT&T. Broadband started as a service for people to surf the Web. Generally, it was a separate service offered by the telephone and cable television companies. However, things are changing and growing.
The changes that are occurring in the industry are groundshaking, but they don't get as much attention as they should. Understanding these changes is important, whether you are a service provider, an employee, an investor, a customer or a partner.
Although broadband used to be a separate service for surfing the Web, going forward it will be the connection to the service provider that will carry telephone, television, Internet access and everything connected to those worlds.
Example: Cable television is a service that delivers TV channels to the home over the cable-TV network. Going forward, however, cable TV will be delivered over the Internet connection, not the cable-TV network.
The same thing will happen with traditional telephone networks — and Internet services will let customers talk on the telephone and watch television, as well as surf the Web.
This transformation will take years to complete, but it already has begun.
Customer Exodus
Just look at how the cable television industry is losing customers for the first time over the last few years. This is a big concern for that industry segment, as other companies and technologies are moving in and growing rapidly.
AT&T U-verse, Verizon FiOS and CenturyLink Prism are three highly competitive services. They are growing and winning business from the traditional cable television services like Comcast, Time Warner Cable and Cox.
Why? There are several reasons.
One is that telephone companies offer better technology over their IPTV networks. This gives the customer the ability to do much more than view traditional cable television. This phone companies at a competitive advantage over the cable television world, for now.
Two is the fact that the cable television industry never took good care of the customer. There was no competition, so cable companies didn't see the need to care about anyone other than the investor.
Investors loved cable television companies. Customers didn't.
That's why the cable television industry is losing customers today as new technologies and new competitors are moving into the space. Better quality, more innovation and better customer care always win.
This is a big opportunity for big competitors like AT&T, Verizon and Centurylink. This is also a growing opportunity for companies with new technologies and ideas, like Amazon, Netflix, Hulu and more.
Today, if you look at the traditional cable companies, they are losing market share for television customers to competitors. The only part of the cable television world that is still growing is Internet services.
That's good, because over the next decade that's where the competitive battle will be fought.
Remember Hurricane Sandy, which struck the Northeast coast a couple of years ago? It destroyed Verizon's landline telephone network, and the company decided not to rebuild it.
Instead, Verizon is using its wireless and Internet connections to deliver services. This is a sign of things to come.
Out With POTS
The networks of the future will not look the same as they currently do. Networks enabling POTS, or plain old telephone service, which most of us still use, would not be built today.
Instead, networks enabling Internet and wireless services are in demand. That is the future. That's why new competitors are those that offer fast Internet and wireless services.
Wireless companies like AT&T Mobility, Verizon Wireless, Sprint and T-Mobile will be players going forward.
Wireline companies like AT&T, Verizon, CenturyLink, Windstream, Comcast, Time Warner Cable and Cox also will be competitors.
Forget about the old-fashioned cable television or local telephone networks we use today. The future will bring spanking new technology.
There will be many companies that compete. Perhaps that means we can expect more consolidation in the industry as well.
Of course, that's not the world today. Today, we already have big investments in POTS and traditional cable television service, so change won't occur overnight. However, changes will occur. In fact, they already are occurring.
Tomorrow, the communications world will rely on wireless and landline broadband networks. Tomorrow everything in our homes, our offices, our cars — everything will be connected to this new broadband network.
So who will be the leaders in this new broadband world?
The next 10 years will be very exciting. We are still in the very early part of this new movie that will run over the next decade. When we started, we did everything over traditional telephone and cable television networks. When we finish, we will do everything over new and fast broadband networks, both wireless and wireline.