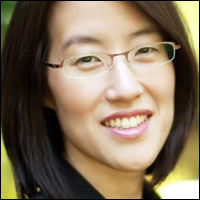 Ellen Pao on Monday testified in a San Franciso courtroom that she was passed up for promotions and sexually harassed by a partner during her employment at prestigious venture capital firm Kleiner Perkins Caufield and Byers.
Responding to questions from her attorney, Therese Lawless, Pao said that after she broke off a relationship with former Kleiner Perkins partner Ajit Nazre, he made it difficult for her to do her job by withholding information, cutting her off email threads, and omitting her from meeting lists.
Pao initially refused Nazre's advances because he was married, she said. After he told her he and his wife had separated, she began an "on and off" relationship with Nazre for five or six months. She stopped seeing Nazre permanently after finding out he had lied to her about splitting with his spouse.
Pao testified that she mentored a male employee, Wen Hsieh, for five to 10 hours a week to help him integrate into the company. However, when promotions were handed out, Hsieh was promoted and Pao was not.
Dirty Politics
Pao, who was appointed Interim CEO of Reddit in November, said she considered leaving Kleiner Perkins five years before she filed her sex bias lawsuit in May 2012. Among the things she objected to about the company were its shabby treatment of entrepreneurs, the dishonest ways partners treated each other, dirty office politics, and decisions based on politics instead of data.
During the court session, Pao's attorney painted a picture of her client as someone who had the tools to be a senior partner at Kleiner Perkins. At one point in the testimony, Pao noted that she initially turned down the Kleiner Perkins job because it was beneath her skill level, but changed her mind after the position was restructured with a path that could lead to a senior partnership.
In its defense, Kleiner Perkins has maintained that Pao's treatment at the firm was based on performance, not gender. In papers filed with the court, the firm — whose past ventures include Netscape, AOL, Amazon, Sun and Google — described Pao as "territorial" and lacking self-confidence and street smarts.
Kleiner Perkins also contended that it treated and paid Pao better than many of her male peers.
It also argued that Pao's lawsuit had more to do with her being miffed at not receiving a promotion she felt entitled to than any gender bias.
That attitude isn't uncommon among some college grads, suggested Jim McGregor, founder and principal analyst at Tirias Research.
"I've seen a lot of these 20-somethings that come out of college and think they're entitled to a six-figure salary," he told the E-Commerce Times.
The Gamergate Factor
Although Pao's claims are typical of sexual harassment and a hostile work environment cases, the profiles of the parties in this case make it stand out.
"Generally, these kinds of cases settle well before they get to trial," said Tom Spiggle, an employment attorney with The Spiggle Law Firm.
"In high-profile cases like this, it can become a game of chicken," he told the E-Commerce Times. "Once a complaint becomes public, companies sometimes feel as if they must defend their reputation."
In recent times — especially under the cloud of Gamergate, whose supporters harassed a number of women in the video game industry with a barrage of hateful and threatening comments online — a spotlight has been trained on gender discrimination in Silicon Valley.
"Since then, there have been huge efforts to get women into technology," said Rob Enderle, president and principal analyst with the Enderle Group.
"Sentiment is moving solidly toward women in this industry," he told the E-Commerce Times. "No one want to be on the wrong side of that initiative."
As more women enter the tech sector, though, it could mean more lawsuits like Pao's.
"As more women break into the field and run into this 'bro' culture, they're less likely to let that kind of behavior slide," Spiggle said. "I think you'll see more women willing to avail themselves of the courts."