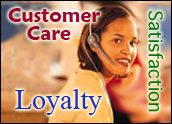 Do you dread calling a company to get customer support? Most of us do. We are on hold forever and the problem drags on way too long, leaving brand loyalty damaged.
Some companies are solving that problem by partnering with Support.com — building customer loyalty, developing a competitive advantage, and turning a profit at the same time.
My Pick of the Week is Google's rumored plan to open a chain of retail stores, perhaps much like Apple's.
Seeing the Customer Service Light
Customer service is the new battleground, and Support.com, which is a young company, has become the support partner for many well-known brands, including Comcast, Sony, Time Warner, Symantec, Office Depot, OfficeMax, AOL, Staples and TrendMicro. It must be doing something right. In fact, if you pay for advanced customer service, you may already be getting help from Support.com.
Companies that partner with Support.com can charge their customers a few dollars a month for enhanced service, which increases satisfaction levels and builds brand loyalty. It's especially effective compared to traditional customer service.
When Support.com contacted me for a briefing, it once again opened my eyes to the customer satisfaction and brand loyalty space. Solutions to some of the problems I've been complaining and writing about for years became crystal clear. As I have often noted before, service is an issue that can build or destroy customer relationships.
Support.com offers many different services to companies in many industries — yet customers often are not aware they are talking with someone from a different company.
Support.com helps companies create a new revenue stream and deepen their customer's loyalty through branded services that enhance their experience, the company's senior management officials told me. My translation: They make customers happy and keep customers happy, plus earn profit for themselves and the client company at the same time.
Customers Want Instant Gratification
When customers call for service, they want a problem solved — and quickly. There are two types of customer care, regular and enhanced. With regular treatment, the customer's experience often starts with a long wait. By the time the problem is solved, the customer is often cranky, which does not lead to a good relationship.
Enhanced customer care is often handled by separate companies like Support.com. They fill the role of the customer service experience provider. Their job is not just to solve the customer problem, but to improve the customer's relationship with the company — and earn a profit in the process.
A customer who pays a few dollars per month gets a special number to call for fast, expert help with problems.
Isn't this the kind of service every company wants to provide? Of course it is. So why aren't more of them taking advantage of this improvement? Maybe they think their own customer service is good enough. Maybe they don't realize the damage that is occurring to their brand. Who knows?
Some companies actually do a great job with customer care. Think of the Ritz-Carlton Hotel company. It projects a carefully crafted image of ladies and gentleman serving ladies and gentleman. Apple saw the value in that approach — it sent its own management through the Ritz training process before opening its retail stores.
Serve Well or Die
Yes, you're right — this is the kind of experience every company should provide. Customer service was better before the tech explosion created long lines of confused and unhappy people.
We can all remember plenty of good and bad experiences with customer service. It can help a company either build or destroy brand loyalty and customer satisfaction. Good customer care cements the relationship with the customer. Bad care destroys it.
Consumer-focused industries — wireless, cable television, smartphones and tablets — are continuing to grow rapidly. Based on that alone, I see this as a long-term opportunity — or a threat, depending how you look at it.
Customer care is a young segment with a big upside going forward. It's up to companies to solve their customer care problems — and according to Support.com, you can also create new areas of growth and profitability at the same time.