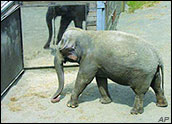 O sole mio? How about SoLoMo? Time for some new jargon in the massive local commerce space that's emerging. Forecasters are trying desperately to get a handle on the pending collision between social, local and mobile media, referred to as "SoLoMo." The part that most of them forget is the reality check. I hate hype and you do also, right? Even underhyped.
It's even better and much bigger than they thought.
The challenge for most forecasters is they look at one aspect of the market and logically try to guess how big a market will get. It's like three people blindfolded holding onto different parts of an elephant. One says it's a flat leathery ear, another says it's a long twisted tail, and still another says it's a hose-like snout. None of them guesses it's two tons of beast.
The two-ton beast in the room today is SoLoMo, and I'm going to share with you insights from both my 17 years in the Internet industry and the past seven years of being in the local and mobile space as an entrepreneur.
Where I'm Coming From
First off, I've been a forecaster. I was one of the first Internet analysts back in the early 1990s, for Paul Kagan Associates and later Jupiter Research. In 1995, I forecast a digital music download industry when no computer had a built-in modem and Apple didn't even have Steve Jobs back at the helm yet (no iPod anywhere in sight).
In those days, just reading text via an online service was like sucking peanut butter through a straw. Later, a book I authored on building digital ventures featured some of the early pioneers in the Internet, including John Doerr, Marc Andreessen, Jerry Yang and others.
As a venture investor, I was an investor in AdSense, which pioneered semantic advertising and which Google bought in 2003. Today it delivers about 30 percent of Google's revenue.
As an executive doing corporate development from 2004 to 2006, I helped build the largest independent local classified service on the Web, second only to Craigslist.
For the past couple of years, I've been building Taleee, a venture that connects the best local businesses to customers all over the world. In the course of building Taleee, I've spoken to hundreds of SMBs including restaurants, hotels, cafes and more, from Los Angeles to London, Boston to Bangkok.
Where SoLoMo Is Going
OK, with that real-world experience and feet on the street knowledge, here's the real deal on SoLoMo. I've seen a few forecasts saying segments such as local mobile advertising will reach about US$3 billion or so, local search ads more than that, at about $9 billion, etc., within the next five years. The challenge with forecasting like this is it assumes segmentation. The reality is much more blurry, like a Jimi Hendrix song. Consider a few facts:
SOCIAL: Social media is early in its development, other than sharing photos and "status" it's kind of limited versus what it will (or could) be doing in the next five years. Forget 800 million Facebook users. Think 4 billion "connected" users worldwide. Yes Virginia, it's bigger than Facebook. Ditto for Twitter. These are just two funnels into social. More will come. The important part is that social media has and will have more "audience" than any TV network anywhere in the world. Social companies are scrambling to be mobile enabled. What they don't know yet is mobile is more than a streamlined version of their Web experience.
LOCAL: Advertising in the U.S. is $300 billion annually across all mediums (direct mail, magazines, newspapers, Yellow Pages, etc.). Newspapers still get about $25 billion a year for ads, according to NAA. If we take Direct Mail, Yellow Pages, newspaper and radio ads by themselves, then the pie up for grabs in SoLoMo is north of $50 BILLION.
MOBILE: In 1999, I wrote a report about a future device that would combine what Palm Pilot was doing with a phone function. Logically, Palm should have done that, right? History shows otherwise. Again, hats off to Steve Jobs and that little thing he made called the "iPhone." The amazing thing is it took someone like Jobs to push the industry ahead. Now everyone wants to make an iPhone clone, from Google to Amazon and probably even Facebook at some point. Four billion people worldwide have mobile phones today. Many of them are in Asia, South America or Africa, where their phone is their only access to the Internet (email, text, etc). Meanwhile, the Web counts 2 billion users today. This distinction between Webs (PC and mobile) will also blur as mobile becomes an integrated part of the seamless connected experience.

What's coming in mobile (and we are building, so I know firsthand) are services that make consumers and businesses "aware" of a multitude of commerce and communication tools. For example, Taleee has a service that directly connects an SMB with customers in their area for free. We call it the Direct Connect Mini CRM. We're now expanding that to over 100,000 SMBs worldwide. How do you factor that in a mobile ad forecast? Easy. It will take dollars from the ad budget and shift them to value-added services that are measurable by an SMB, that go way beyond even a keyword buy on a search site.

Mobile will displace Web-based services to some extent. The notion of a "keyword" will be more like 1990s thinking than 2012-2017 era thinking. In the next few years, mobile will crush the PC-based Web. Visually it would look like this with mobile opening up entirely new ways of doing things enabled by local and social: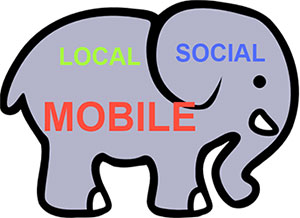 Anyone seen the big elephant in the room? Meet SoLoMo. Friendly, and gets around.