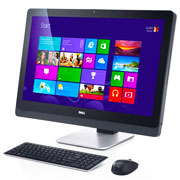 The years-long PC sales slide will slow somewhat this year, Gartner has predicted.
"After declining 9.5 percent in 2013, the global PC market is on pace to contract only 2.9 percent in 2014," Gartner research director Ranjit Atwal said. The company lumps in desktops, notebooks and premium ultramobiles under the "PC" category.
However, the skyrocketing demand for tablets will slow, Gartner forecast. Shipments will grow only by 24 percent over 2013, to total 256 million units.
Mobile phone sales are expected to grow 3.1 percent over 2013's figures, to total 1.9 billion units this year.
Smartphones will constitute 66 percent of global mobile phone sales this year, increasing to 88 percent by 2018, Gartner estimated.
Not Your Daddy's Desktop
Changes in the consumer electronics marketplace — especially a shift in devices used for content consumption and the rise of cloud storage — have led Gartner to overhaul its classifications.
Whether a device is a "PC" or not is no longer relevant to Gartner; what is relevant is the tasks users want to perform with a device, and the options among the devices they have to fulfill them.
Desk-based PCs are typically immobile, intended for use in a single location, and have access to lots of applications, software and content for mainstream OSes. They include tablets with screens 14 inches or larger.
Notebooks have smaller screens, are portable, run the same full range of software and applications as desk-based PCs, have access to the same content, have a clamshell or convertible form factor, and are more comfortable to use on a fixed surface.
Ultramobiles are tablets, hybrids or clamshells — all with screens measuring seven to 13.9 inches.
Premium ultramobiles are lighter and smaller than notebooks and have an instant-on feature. They are user interface-optimized but have capabilities for full-scale data processing. They include Windows 8 Intel x86 devices and the MacBook Air.
Basic ultramobiles are mainly for content consumption. They include Windows RT devices, Windows 8 devices with screens up to 8 inches, the iPad and iPad Mini, Android-based tablets and Chromebooks.
Utility ultramobiles are basically lower-end whitebox tablets.
Stanching the Hemorrhage
There will be nearly 60 million business PC replacements in the mature markets, especially in Western Europe, Gartner estimated.
In Western Europe, business upgrades from Windows XP and the general business replacement cycle will stem the slide, Gartner's Atwal said.
However, the situation varies by market, said Mikako Kitagawa, Gartner PC and tablet market analyst.
"In Japan, for instance, there's double-digit growth because of XP replacements, for both consumers and business," she told the E-Commerce Times.
The situation also varies by device. The traditional desk-based and notebook PC market, consisting of relatively heavy machines with large screens, will continue to slide, shrinking 6.7 percent in 2014 and 5.3 percent in 2015.
PC sales will continue to decline overall. The difference is, instead of an arterial hemorrhage, it will be a drip from a capillary.
Whither the Tablet and Smartphone?
The burgeoning home automation market, where Google, Apple and Microsoft are battling it out, and the Internet of Things point to potential growth in demand for mobile devices.
Google, Apple and Microsoft are pushing into home automation, while security companies such as ADT, along with cable and phone companies such as Comcast and AT&T, offer home security. All of them seek to provide connectivity to their devices through consumers' smartphones and tablets.
"With Android's strong showing in the mobile market and Google's rolling of data from its Nest subsidiary into Google Now, [Google] is in a strong position in the smart homes and subsequent Internet of Things markets," Adarsh Krishnan, a senior analyst at ABI Research, told the E-Commerce Times.
Then there's the smart car market, where Google, Apple and Microsoft also are in competition.
"Aside from home automation, I expect the other main fights in the IoT to be for control of the dashboard in the car and the health market," Daniel Castro, senior analyst at the Information Technology & Innovation Foundation, told the E-Commerce Times.