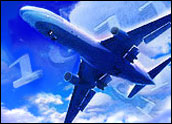 Delta Air Lines this week announced that it will ban in-flight cellphone calls amid growing opposition to the U.S. Federal Communications Commission's proposal to allow them.
Delta employees, particularly flight crews, are opposed to on-board cellphone calls, CEO Richard Anderson said in a memo to the company's 80,000 employees worldwide.
"Our customers, particularly frequent flyers, told us that was something that didn't make for a positive flyer experience, and we listed to their voices," Delta spokesperson Paul Skrbec told the E-Commerce Times.
Delta had addressed the issue back in October when the Federal Aviation Administration announced airline passengers could safely use portable electronic devices on-board while in flight.
If the FCC lifts its current ban on in-flight cellphone conversations, Delta will allow "silent data transmission" on cellphones or other devices, Skrbec said, such as sending text messages and emails or surfing the Web. "We want customers to stay connected with their customers, family and business partners."
Technology Is No Barrier
Up until the FAA's ruling, airline passengers were not allowed to use wireless devices during takeoff and landing because of concerns they would interfere with airplanes' electronics.
However, technology has advanced to the point where this is no longer an issue.
"You may have some issue with communications when you're trying to go between cell towers and the plane is flying at 30,000 feet, and you may have to add in more wireless equipment," said Jim McGregor, founder and principal analyst at Tirias Research and a frequent flyer himself.
However, while that might cause some interference with wireless signals, "that problem can be solved," McGregor told the E-Commerce Times. "The bigger issue is, you're adding a potential stressor or annoyance to people in a very confined environment."
People Who Don't Heed People
"In far too many operational scenarios, passengers making phone calls could extend beyond a mere nuisance, creating risks that are far too great," Corey Caldwell, a spokesperson for the Association of Flight Attendants-CWA, told the E-Commerce Times.
Fears have been expressed that arguments, and possibly even fistfights, might erupt when travelers are annoyed by other passengers' phone calls.
In addition to potential passenger conflicts, "flight attendants also are concerned that in emergencies, cellphone use would drown out announcements and distract from life-saving instructions from the crew," Caldwell pointed out. "Any situation that is loud, divisive and possibly disruptive is not only unwelcome but also unsafe."
In confined environments such as airplanes, disagreements between passengers "could become a major issue and the pilot may be forced to land the aircraft," remarked McGregor.
Possibly with an eye on the safety issues, U.S. Transportation Secretary Anthony Foxx has said he would use his authority to decide whether or not in-flight cellphone calls would be allowed, even if the FCC approves them.
Shut Up and Fly
Opposition to the FCC's proposal is widespread. An AP-GfK poll earlier this month found that 48 percent of Americans object to in-flight cellphone calls, 30 percent are neutral and 19 percent support it. Objections are stronger among frequent flyers.
Lawmakers have jumped into the fray as well. Rep. Bill Shuster, R-Pa., has tabled Bill H.R. 3676 to ban in-flight cellphone calls, and a bipartisan group of 14 members of Congress have written the FAA urging it not to allow in-flight cellphone calls.
The FCC is looking only at the technological side of the question and not at behavioral issues, the Commission has stated. The FAA has primary responsibility for in-flight safety, and the FCC would work closely with the FAA.
Even if the FCC approves making cellphone calls in-flight, the default stance will be that the use of cellphones on flights would still be prohibited. Airlines would be free to decide whether or not to allow these calls.