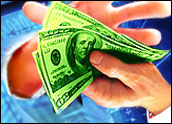 The existing model for daily deals is broken. The biggest issue: It's simply not making merchants money.
In just a few quick years, daily deals have shifted the concept of local marketing from traditional advertising to blanket discounts aimed at driving first-time customers en masse. While the new marketing practice has transformed today's shopping experience and increased awareness of local stores, restaurants, spas and other services, it has also left some merchants questioning whether the results have always made a positive impact to their bottom lines.
Given widespread concerns about merchant satisfaction, how can participating businesses ensure that these promotions remain a local marketing tactic that will actually make them money? The first step is for deal sites to start seriously addressing merchant profitability.
The Problem
In order for businesses to make a profit during a promotion, customers must spend over a certain threshold. But some merchants who have cut prices in order to make offers attractive enough to users of deal sites have lost money instead. Merchants in certain industries have already responded; restaurants have decreased their daily deals by 40 percent over the past year, and offers from salons and spas are also down by 18 percent.
Another issue with many daily deal sites is that they discourage subscribers from paying full price. Most operate under a strategy historically recognized as a "loss-leader approach," which attracts customers to a business by offering steep discounts on specific items or services. The approach involves selling goods and services at a loss, and only results in profits for merchants when first-time customers spend money in addition to their vouchers AND visit again to pay full price.
Unfortunately for merchants, many deal sites are not designed to reach high-spending, repeat-visit customers, and there's data that shows it. One Rice University study reveals that while 8 percent of coupon redeemers come to a merchant for the first time through deal promotions, only 20 percent become repeat visitors. Even more troubling is the fact that many popular deal sites get paid based on the number of deals they sell, not how many of these sales convert into further spending.
The larger consequences for the industry are logical:
merchants who once ran deals are becoming less eager to give discounts,
the variety of offers available for customers is deteriorating, and
customers are unsubscribing as a result.
For many daily deal sites, quality is suffering. The key to survival in the industry will be a site's commitment to aligning its own business interests with those of its merchant partners.
The Solutions
Offers must benefit merchants. A performance-based business model — in which a site's revenue is directly linked to the profit of its merchant partners — is one good way to achieve this. In other words, sites and merchants should work together to structure offers that will make merchants money. To ensure success, guarantee programs for these merchants would further solidify marketing value of the local offer space.
It's crucial for sites to provide transparency. Merchants who've run deals through these sites may be familiar with a dashboard — a unique page counting the number of vouchers sold. But does that dashboard show which items customers buy when they're in the store? Does it track customers' credit cards to indicate whether a person came back a second, or even a third time? Merchants need this information to calculate gains or losses around promotions, and to determine whether these offers truly add value to their businesses.
The future of the industry will depend on the ability of deal sites to reach the best customers and control the distribution and availability of deals. Neither subscribers nor merchants benefit from sending identical offers indiscriminately to deal seekers, as it conditions customers to expect discounts on everything they buy. Instead, deal sites should let merchants send private offers to reward customers for their good purchasing history as well as how much money they are spending in-store.
To date, daily deals have been a step in the right direction for local marketing, allowing merchants to reach customers where they're spending most of their time: online. But there's room for improvement. Merchants power daily deal sites with promotions for their goods and services and, naturally, need to profit from participating and acquire loyal customers. If they don't, these sites will have nothing to sell, and customers will have nothing left to buy.
Unless we see a drastic shift toward prioritizing merchant satisfaction and success with local offers, consumers can expect to see the variety and volume of deals dwindle from their inboxes, and merchants may find their local marketing efforts back at the drawing board.