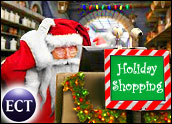 Despite the recent gloomy economic news and consumer credit crunch, consumers will still spend hundreds of billions of dollars this holiday season. For retailers, the countdown has already begun and now is the time to start thinking about your holiday e-mail marketing programs for the holiday push. Start in September and you have 100 days to grow your business.
The percentage of holiday sales made online grew by 20 percent from 2006 to 2007. Experts are predicting continued growth of the online channel spurred on by the cost of gas and online price comparison tools. This could be a big year for e-mail marketers to reach customers seeking to pinch pennies at the pump and at check out with holiday e-mail promotions.
Getting off to a strong start for the crucial holiday sales period is more important than ever, especially for smaller, specialty retailers competing against big box chains that will be slashing prices and running heavy promotions to attract shoppers.
Marketing Pays Off
Even with a tight economy, retailers who tune up their marketing efforts have a lot to gain. Consumers spent US$475 billion (National Retail Association) during the 2007 holiday season, and with e-mail marketing ROI at $48 for every dollar spent (Direct Marketing Association, 2007), small businesses have the opportunity to get an early leg up on the competition — against big box stores and smaller competitors on Main Street.
Here are a few steps you can take to ensure your e-mail marketing programs are optimized for the 100 days of the holiday retail season:
Be Prepared

Pre-planning is the first step in any e-mail marketing program. You should look at the trends, failures and successes of the previous year — for yourself as well as your competitors — and use that information to determine what you want to accomplish this year and to define your campaign message.

Timing Is Everything

Increasingly, people are shopping online and are doing so from work. A 2007 Shop.org survey found that 68.5 million Americans shopped from work. This means that retailers don't have to worry about timing their e-mail sends to reach people at home — which is a much trickier proposition given the competition from other entertainment options. The timing that is important here is to make sure to start early. E-mail marketers need to begin outreach to their lists as early as September with advance discounts and information on new products. Now is also the time for software and creative retooling or to conduct any testing that might be too risky to perform during the peak season.

Over the last couple years, online retailers have seen a huge spike in traffic on the Monday after Thanksgiving. This day has come to be known as "Cyber Monday" — the day retailers finally turn a profit. Last year the second Monday of December was also a huge shopping day and became known as Green Monday. For brick and mortar retailers, the Friday after Thanksgiving is THE big shopping day. Consumers have come to expect promotions and specials on certain days. Don't disappoint them. Use e-mail to create buzz and anticipation about your Cyber Monday and other big promotional days and make your specials available to your subscribers before the general public.

Grow Your List

Starting an e-mail campaign early will also give you enough time to start growing your e-mail list. Not only do you want to have a substantial list of targets, but quality is also very important. Entice new subscribers with the promise of additional discounts and advance notification of holiday promotions. Everyone offers free shipping around the holidays, so offer something more to your e-mail subscribers to reward them for their loyalty and to encourage list growth. Add a viral component to your e-mail campaigns by encouraging subscribers to forward coupons or special offers to friends.

Get Personal

It may sound simple, but customers like it when you're polite. Taking the time to personalize e-mails via the subject line, salutation and content provided, not only makes your e-mail stand out in a customer's crowded inbox, but it also makes customers feel like you know them and know what they need.

According to the Aberdeen Group's report, "E-mail Marketing: Get Personal with Your Customers," 96 percent of organizations surveyed for the study believe that e-mail personalization can improve e-mail marketing performance. Personalizing e-mail campaigns lets customers know that you understand their interests and want to offer content that speaks to them. Personalization also shows customers and prospects that they aren't just another e-mail address added to your mass mailing scheme.

Put the Customer First

E-commerce sites lose a lot of customers because of a lack of valuable product information. Customers want information on the products they are considering purchasing. User-driven product content such as ratings, reviews and Q&As can provide credible product information that customers want. Retailers are also linking products to social networking sites like Facebook where a customer can add a product to a wish list or add a note to his or her profile about the product being viewed on your site. A purchase can trigger an e-mail asking the customer to rate or review the product. Then, come holiday time, you can send a "top rated products" promo e-mail. Offering this information to your customers can serve as a valuable tool for them. The best part is they'll remember who provided it for them and go back for more.

Make Sure Your E-mail Clicks

You can't offer this valuable tool to your customers if they don't click on your e-mail in the first place. You need to make your e-mails as enticing as possible. Focus on your subject line, use rich media to get their attention, be festive — anything to make sure they click on your e-mail.

Build a Relationship

Once a customer makes a purchase or starts a relationship with you, their sales information will give you insights to what that customers want and when they want it. Get to know your customers by their purchasing behavior so you can implement triggered campaigns for cross-sell or up-sell opportunities.

Another way to get to know your customers is to ask. Poll your customers or e-mail them a customer feedback questionnaire so you can keep them engaged, while at the same time gathering valuable information from them.

Keeping your customers engaged is key to building a relationship. You want them to see you as a valuable resource. Make sure every e-mail and campaign provides value, not just the hard sell. Special offers and coupons are always welcomed, but be sure to provide valuable information your customers can use, including tips, updates and relevant news.

Use a Multi-Channel Approach

Retailers have found that by coordinating their online and offline holiday campaigns, they get better results across both channels. Print and direct mail campaigns usually have longer lead times and get started before online campaigns. Including the Web marketing team in the planning of the offline holiday campaigns will increase the compatibility and consistency of the programs across both channels.

Test and Use the Reports

Testing and reporting are essential parts of any successful e-mail marketing campaign, but they are even more important during the holiday season. Set goals for your holiday e-mail programs with clear expectations, objectives and measurement criteria. A/B split testing is crucial. Be prepared to test offer, subject lines, content and creative variables. Testing early and often will tell you if you're on target or if you need to make adjustments — before too much time is lost.

Stretch It Out at the Last Minute

Many of us, especially men, shop at the last minute. Last year, nearly 17 percent of shoppers had not even started and over 50 percent had only completed half of their shopping by Dec. 18, according to the National Retail Federation. If there is a time to significantly increase e-mail frequency, it's the two or three weeks before Christmas. Effective campaigns can make finding the right product easy (for example, a campaign with gift suggestions for different budgets or family members) and will contain a call to action that reminds them that time is running out.
---
Luc Vezina
is Head of Marketing for
Campaigner
, an e-mail marketing service for small-to-medium sized businesses.
---