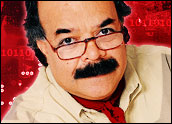 What's the big deal, when every major corporation in the USA searches for an Indian company so they can park all their mundane information management under a banyan tree?
Protesters during the industrial age screamed against rapid automation as a serious threat to jobs and a possible destruction of society. They later protested about the manufacturing meltdown during the embrace of the information economy. Now, listen to the roar as we enter into a global tide of exporting jobs.
Mundane jobs, that is.
Future of Totally Outsourced Economy
There is no way that a comfortably nestled corporation in this successfully digitized-industrialized economy can compete with the soft-information-skill-savvy workforce of the Indian subcontinent. There is also no way corporations can afford to skip their global presence by losing edge and therefore have no choice but to embrace an outsourcing model.
What is this big economy to do? Take another quantum leap and once again become the big thinker? Create innovative products? Invent new services all based on outsourcing, without too much to worry about high costs of labor, HR complexities or unions?
To those engaged in servicing current and basic information services, the future is totally dark; the lights were turned off years ago. The U.S. is not isolated; rather, this issue has shaken the entire G8 Empire. The more an economy is structured around information and services, the harder the impact will be. The sky will not fall. No matter what happens, running shoes will never be made in America and neither will the ever-so-repetitive and data-dependent information services.
Just think, Columbus was looking for India, too.
Totally Branded and Totally Outsourced
While corporate America is slowly slipping in its international stature for being too caught up in its own internal battles of ideologies, principals and re-alignments, it is equally poised to capture a brand new reality of once again becoming new international giants servicing the global needs; a motherland of corporate structures, based on sophisticated outsourcing models. Invent better services; offer better quality, and reach global markets under better American management. Transfer the basis of information-economy jobs to better marketing and global management jobs.
It is difficult, but now it is the new way for American corporate branding to stay in power.
Future of an Outsourced Economy
Corporations will work as an upwardly mobile global management system running in contrast to a data processing and information-handling service organization.
A major meltdown of the entire middle and back end portion of the corporation will make the traditional corporate structure very different. There will be more elimination of most of the repetitive procedures and services. There will be a dramatic increase in global marketing and branding and digital management systems reaching new heights. A major shift could occur in appreciation of the intellectual property issues and building of global name brand assets.
India is not the enemy; it's only one of the dozens of countries that is filling the gaps. All those people, who decades ago didn't adopt the traditional industrial assembly line work style of their parents and opted for information technology as careers, now must discover global marketing and international brand management as possible futures.
Corporations can have three choices: Embrace this change and lead by innovation and globalization; re-create the entire organization on a completely out-sourced model; or educate your entire workforce to drop the routine information-based services and to become value-added, knowledge-based, global marketing machines.
---
Naseem Javed
, author
Naming for Power
and also
Domain Wars
, is recognized as a world authority on global nameidentities and domain issues. Javed founded ABC Namebank, aconsultancy he established a quarter century ago, and conducts executiveworkshops on image and name identity issues. Contact him at
[email protected]
.
---