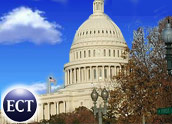 A coalition of both right- and left-wing groups called on Congress Monday to "save" the Internet by requiring network neutrality through law.
"Whenever you see people on the far left and far right joining together about something Congress is getting ready to do, it's been my experience that what Congress is getting ready to do is basically un-American," declared Craig Fields, director of Internet Operations for Gun Owners of America, at a telephone press conference held by the SaveTheInternet.com Coalition.
"The diversity of the coalition underscores the importance of this issue," added Vint Cerf, Google's chief Internet evangelist and one of the founding fathers of the Net. "Many of us have not worked together before, but on this matter we are fully aligned."
Freedom Fight
The coalition called the conference to announce its formation and its intention to pressure Congress to include strong network neutrality provisions in a communications bill currently before the House Energy and Commerce Committee.
"The fight for Internet freedom is now being waged in earnest," argued Tim Karr, Campaign Director for Free Press.
"On one side, you have the public," he continued, "represented by groups like those that make up the SaveTheInternet.com coalition. And on the other side, you have the nation's largest telephone and cable companies, who have aligned with some in Congress to strip the Internet of its First Amendment, a principle called 'network neutrality.'"
Proponents of network neutrality believe that the people operating the "pipes" of the Internet — Internet Service Providers and phone companies, for instance — should not be allowed to tamper with with what's running through the pipes.
Thwarting Innovation
"The last decade of Internet evolution has been marked by innovation," Cerf observed. "That innovation has been a consequence of the open and neutral access that the Internet has afforded up until now.
"You didn't have to get permission from an ISP to start companies like Yahoo and Google and Amazon and eBay and many others," he explained. "You simply got on the Net and tried out your new business idea.
"The proposals coming from the telcos and cable companies, as exemplified in some of this legislation, destroy that neutrality," he contended. "It looks like it would interfere significantly with the ability to innovate in the network environment."
Hurts Little Guy
Craig Newmark, founder of and chief customer service representative at Craigslist.org, said he found recent conversations he's had with telco workers disturbing.
"According to the line workers that I've spoken to at big telecom companies, the companies would use these new privileges to hurt the little guys, and I don't think that should happen," he said.
Network neutrality must become part of the nation's laws, maintained Gigi Sohn, president of Public Knowledge.
"We want a simple principle that says broadband network providers cannot discriminate against independent voices," she said. "They cannot favor the content that they own or the content in which they have a financial interest."
The coalition wants to prohibit tiering schemes that impose fees to deliver Internet content on top of existing fees, as well as strong federal enforcement, including financial penalties, for violating network neutrality, she added.
More Harm Than Good
Writing network neutrality into law could have a downside for Internet users, especially if it were to result in commoditization of broadband services, according to a policy paper released by the Phoenix Center, a Washington, D.C.-based think tank.
"Policymakers should avoid mandates that may 'commoditize' broadband access services, since such a policy approach is likely to deter facilities-based competition, reduce the expansion and deployment of advance communications networks, and increase prices," the study recommends.
"Moreover," it notes, "given the economic characteristics of local communications networks, policies that promote commoditization of broadband access could lead to the monopoly provision of advanced broadband services in many markets. This outcome would harm consumers substantially."
Urgency Discounted
Although the coalition characterized the current situation as urgent, other observers found it less so.
Maribel D. Lopez, an analyst with Forrester Research in Boston, doubted that Congress would act on net neutrality at this time. "There isn't a problem yet," she contended. "You shouldn't get intervention before you see a problem."
What's more, net neutrality has been mandated as part of the agreements in the latest telco mergers, she maintained, so problems would not appear until 2008 to 2009.
"You're talking a three- to five-year period where this doesn't matter," she told the E-Commerce Times. "So it's really a debate that's much ado about nothing right now."