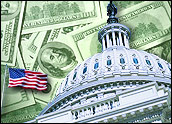 The U.S. government soon will be operating in the 2015 fiscal year, which begins on Oct. 1. For information technology vendors, marketing to federal agencies will remain challenging during 2015 and succeeding years, as agencies work within a constrained budget environment.
In the short term, overall federal IT spending will decline. However, most, if not all of the reductions will fall within the Department of Defense, according to a recent forecast from Deltek. Spending within the civilian sector will remain flat, although there are significant differences among cabinet level departments and major agencies.
Federal IT spending in 2015 will dip to US$98 billion from the 2014 level of $101 billion, according to Deltek's forecast for the "addressable" market. By 2019, annual spending will be around $94 billion. Deltek's broadly based analysis includes major departments and agencies, as well as the intelligence sector, the federal judiciary and Congressional IT spending.
Gartner also has taken a look at the pattern of projected federal IT spending, and its forecast shows a decline for the next few years as well, followed by a modest recovery. Using a narrower basis for its analysis by mainly focusing on cabinet level departments, Gartner predicted federal IT spending would drop from $70 billion in 2014 to $68.2 billion in 2015, and would not top $73 billion again until 2017.
Both forecasts follow the Obama administration's own budget guidance, which shows a nearly $1.8 billion decline from the 2014 enacted amount of $76.4 billion to the 2015 budget request of $74.6 billion.
"After nearly double digit growth from 2001 through 2012, the federal IT budget is experiencing downward budget pressures overall, with steep reductions in some areas and actual growth in others," wrote Gartner analyst Katell Thielemann in a July report.
A more cautious approach to IT spending, both in the amount of money involved and the purposes of investment, is influencing the future of federal IT contracting and creating both difficulties and opportunities.
"The trick for vendors is positioning for those opportunities while avoiding pitfalls and keeping an eye on the shifting landscape," suggests Deltek's report.
By the Numbers
While the trend is for a decline in overall IT spending, cuts will be implemented in fairly discrete ways. At DoD, which shows the biggest decline, reductions will be directed at specific areas, rather than implemented across the board. Similarly, civilian spending will vary among each department or agency, thus avoiding the meat ax approach to cuts.
Defense Department IT spending will decline from $52.1 billion in 2014 to about $45 billion in 2019, according to Deltek.
"DoD's long-term strategy is to create a smaller, more agile force, reduce redundancy in investments, and cut costs through shared investments like the JIE. These savings are intended to fund innovation in future tech investments so that they can keep spending down," Deniece Peterson, director of federal industry analysis at Deltek, told the E-Commerce Times.
The Joint Information Environment (JIE) is an effort to realign, restructure, and modernize how DoD's IT networks and systems are constructed, operated and defended.
The decline in DoD spending is in part a result of winding down war efforts in Iraq and Afghanistan. It also reflects a policy decision to operate more efficiently, according to Gartner's Thielemann.
"DoD is facing reduced IT budgets due to sequestrations as well as trade-offs between readiness, investments in weapons systems, and IT needs," she told the E-Commerce Times.
Still, vendor opportunities will remain significant for continuing DoD operations and for growth in such areas as electronic medical records and financial management functions for the military, according to Gartner.
On the civilian side, between 2014 and 2019, annual investments in IT will dip marginally from $39.3 billion to $39.1 billion, and intelligence community spending will fall from $9.9 billion to $9.4 billion, according to Deltek.
Sustained civilian IT funding at current levels is a net plus for vendors in the context of an overall more frugal federal budget environment — although, again, agency spending will vary. For example, the Obama administration budget for 2015 shows IT reductions at seven cabinet departments, and gains at seven others compared with 2014.
"Civilian agencies will be affected in different ways: Some, like the Department of Homeland Security, will be overall flat; some will see slight declines; and some will see continued growth. The Department of Veterans Affairs, for instance, is exempt from sequestration and has large ongoing IT needs," Thielemann said.
Where the Money Will Go
Where federal spending will be directed in terms of type of investment may be of more value to vendors than spending breakdowns by agency, and both Deltek and Gartner provide such an analysis.
In 2014, hardware spending will be at $19.3 billion, according to Deltek, while IT services will account for $52.8 billion. Communications and network services spending will amount to $17.6 billion, and software $11.5-billion. In 2019, investments will be $15 billion for hardware; $49.5 billion for IT services; $17.8-billion for communications and networks, and $11.3 billion for software.
Gartner's approach is to classify spending by function within four major tracks: external sources, hardware, software and internal sources.
Opportunities will be significantly limited in three of those four categories due to overall cost-cutting, the use of commercial off-the-shelf software (COTS), outsourcing and equipment rationalization, according to Gartner.
The external sources category, however, represents more than 50 percent of market opportunities in four components, says its report. These include IT consulting, with 2014 spending pegged at $16.3 billion; IT implementation at $17.5 billion; business process outsourcing (BPO) at $4.9 billion; and IT outsourcing (ITO) at $5 billion. By 2017, annual spending will reach $18.5 billion for consulting; $19 billion for implementation; $5 billion for BPO and $6.3 billion for ITO.
In compiling its report, Deltek included a survey of both federal IT managers and vendor representatives, who were in close agreement that investments in cybersecurity would remain a priority, with government respondent mentions at 70 percent and vendor mentions at 63 percent. However, government mentions of cloud investments, at 42 percent, were far less than industry, at 80 percent. Similarly, data center consolidation received only a 23 percent rating from government but a 60 percent mark from vendors.
Gartner's analysis referenced its 2013 survey of federal chief information officers in which the top IT priorities were infrastructure and data centers, business intelligence and analytics, cloud, cybersecurity and mobile technology.
The pattern of increased spending on IT capacity outside of federal ownership could add a new wrinkle for some vendors and contractors. Rather than directly marketing to federal agencies, they could indirectly participate in the government market by providing components to cloud or other shared service providers who capture large federal IT contracts.
"Our sense has been that companies with federally focused business units may see a shift in who their direct customers are," John Slye, a research analyst at Deltek, told the E-Commerce Times. "Their products and services may ultimately serve their traditional federal agency, but these may go through an additional service provider company or even agency."