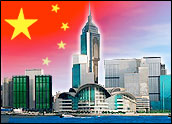 China's State Administration for Industry & Commerce on Tuesday announced it has launched an investigation into Microsoft under the country's antimonopoly laws, according to press reports.
The announcement comes days after SAIC officials reportedly raided Microsoft offices in four cities, seizing documents, emails and other data from servers and computers; copying the company's financial statements and contracts; and questioning some of its staff.
Microsoft failed to fully disclose Chinese enterprise customers' complaints that its use of tie-in sales and verification codes in its Windows OS and Microsoft Office application caused compatibility issues, the SAIC claimed.
Such information has to be revealed to China's regulators.
Microsoft uses verification codes to prevent illegal copying of its software, and using such codes is not anticompetitive, Rob Enderle, principal analyst at the Enderle Group, told the E-Commerce Times.
Microsoft intends to address any concerns the Chinese government has, Angie Lunde of Waggener Edstrom told the E-Commerce Times, reiterating the company's earlier stock statement.
Microsoft reportedly has retained a Chinese law firm to handle the antimonopoly charges.
Why the SAIC's Mad
The SAIC investigated Microsoft's use of tie-in sales and verification codes in June of last year, it reportedly said. A preliminary inspection did not remove suspicions related to Microsoft's apparent anticompetitive activities.
Under the law, companies or individuals should not abuse their market dominance to exclude or restrict competition, and they should be supervised by the public, according to the SAIC.
After paying its unannounced visits to Microsoft offices in Beijing, Shanghai, Guangzhou and Chengdu, the SAIC said it could not complete its investigation, as Microsoft had told it some of the company's key personnel were not in China, according to reports.
There Are No Friends in Business
Microsoft is among several American high-tech companies, including Google, being targeted by the Chinese authorities.
One might think that the various trade associations these companies belong to would stand up for them.
However, "at this time [the Business Software Alliance] will not be able to provide comments," Howard Ali of Edelman, the Alliance's public relations firm, told the E-Commerce Times. The BSA represents some of the world's largest software vendors, including Microsoft.
A spokesperson from the Computer & Communications Industry Association (CCIA) was not immediately available to comment for this story.
Competition? What Competition?
Chances are that the verification codes caused software incompatibilities for enterprise users because they were not using legal copies of Microsoft products in the first place.
China "does a massive business in illegal copies of software, and it looks like someone . . . figured out how to use their antitrust laws to prevent Microsoft from using authorization codes to [fight piracy]," Enderle suggested.
"Were this really about anticompetitive behavior, it would have made more sense to [investigate Microsoft over this] in the 1990s, when it held over 95 percent of the Chinese market," Enderle continued. "Now Microsoft has less than 50 percent."
The Chinese either want "to help the illegal copy industry, or they are using Microsoft to get the attention of the United States," Enderle opined. The U.S. and Chinese governments are each targeting other country's large companies in a political game.
Microsoft May Face a World of Hurt
Microsoft could face massive fines if it loses the case when the Chinese authorities take it to court; at the very least, it will have to pay out a lot of money in legal fees and see a further diminution of its business in China.
"Being forced out [of China] might actually be a good strategic move, because if there were a massive virus problem related to those machines, the finger would then be pointed at China and not Microsoft," Enderle said.
On the other hand, the Chinese market does offer huge untapped potential, and Microsoft is only following in the footsteps of companies like IBM, which spent decades trying to open up that market.