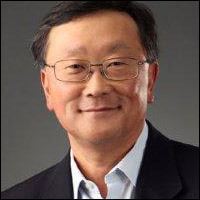 BlackBerry CEO John Chen set off a barrage of online chatter Wednesday when he proposed that any rules the United States adopts to preserve Net neutrality also should guarantee application neutrality.
Chen made the proposal in a letter to the chairmen and ranking members of two U.S. congressional panels — the Senate Committee on Commerce and the House Committee on Energy and Commerce — and posted an adapted version on the company's blog.
Both the U.S. Federal Communications Commission and Congress currently are considering ways to address Net neutrality — the idea that service providers must treat all traffic on the Internet equally.
"BlackBerry believes policymakers should focus on more than just the carriers, who play only one role in the overall broadband Internet ecosystem," Chen wrote.
"The carriers are like the railways of the last century, building the tracks to carry traffic to all points throughout the country. But the railway cars traveling on those tracks are, in today's Internet world, controlled not by the carriers but by content and applications providers," he observed.
"Therefore, if we are truly to have an open internet, policymakers should demand openness not just at the traffic/transport layer, but also at the content/applications layer of the ecosystem," he added. "Banning carriers from discriminating but allowing content and applications providers to continue doing so will solve nothing."
Breaking It Down
If Chen's approach to Net neutrality were adopted in the United States, it would have far reaching consequences for BlackBerry competitors like Apple and Google, which have mammoth ecosystems built on their iOS and Android operating systems.
"It may be unfortunate that Apple and Android are taking market share away from BlackBerry, but that doesn't mean Chen's competitors should be forced to write apps for his phones," said Jeremy Gillula, a staff technologist with the Electronic Frontier Foundation.
Imagine "Steve Jobs, before the Mac became popular, demanding that people write everything they write for the PC for the Mac as well. It's kind of silly," he told the E-Commerce Times.
"In principal, I think it would be wonderful if market forces did what Chen wants," Gillula added, "but I don't think it's the sort of thing that should be regulated or legislated."
There's a note of desperation in Chen's letter, suggested Charles King, principal analyst with Pund-IT.
"Developers go where the money is," he told the E-Commerce Times. "No developer in his right mind is going to write apps for a platform that continues to lose market share and users to competitors. Trying to mandate what platform apps are written for is a fool's errand."
Muddy Waters
Chen's proposal may be sincere, but coming less than two weeks before the FCC is slated to release its proposed Net neutrality rules, it could do more harm than good.
"This concept of content neutrality unnecessarily muddies the waters around the very real issues around Net neutrality," King noted.
Although Chen called for regulation of BlackBerry's competitors, he stopped short from recommending the same sort of regulation for the telecommunication companies through which BlackBerry's products are sold.
"Given the unique nature of wireless networks, including the highly competitive wireless business in the United States and the bandwidth limitations inherent in spectrum-dependent transport, reclassifying broadband as a Title II service seems excessive to us," Chen wrote.
Reclassifying broadband service under Title II of the Communications Act would give the FCC greater authority to enforce Net neutrality, according to proponents, which include the Obama administration and a number of consumer groups.
"Everybody in Washington is in favor of deregulation for themselves but never so much for their competitors or for other people," Free Press Policy Director Matt Wood told the E-Commerce Times.
Traffic Massaging
Despite the uproar following publication of Chen's letter, not everyone believes apps should be totally shut out of the Net neutrality discussion.
"I agree that there should be some app component in Net neutrality to allow the carriers to determine the priority and quality of service for a data type or application," said Jim McGregor, founder and principal analyst with Tirias Research.
"Otherwise, some applications — like voice — that require a priority for a high quality of service, will suffer if they compete with all other Internet traffic," he told the E-Commerce Times.
"Unfortunately, Mr.Chen's proposal goes too far in trying to undermine the nature of business in a free market society. Businesses should be able to choose their channel partners and outlets for content," McGregor said.
BlackBerry did not respond to our request to comment for this story.