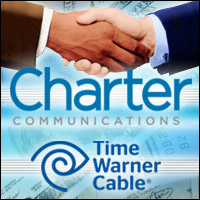 Will the Charter Communications, Time Warner Cable merger be approved? Comcast and Time Warner Cable decided to merge last year, but that deal eventually was blocked by regulators. After it fell apart last month, we all wondered what big deal might be next. Now we know. So will the Charter, TWC deal be approved?
It's way too early in the process to know for sure one way or the other. However, based on what we know so far, I believe this deal is very likely to meet regulators' approval. In fact it could happen pretty quickly.
Patience often is rewarded. Just ask John Malone, chairman of Charter investor Liberty Media. Malone, who sits on Charter's board of directors, has been patiently waiting for the Comcast deal to fall apart. When it did, he saw his chance to turn Charter into a much larger and much stronger competitor in the cable television space.
Stronger Second
What's the difference between these two mergers? Comcast is already No. 1 in cable television. It also owns NBC. Its Xfinity service is competitive with AT&T's U-verse, Verizon's FiOS and CenturyLink's Prism. The phone companies' IPTV is actually hitting it out of the park for innovation and quality.
The problem is their services are available only in a limited number of cities. Someday, when IPTV is offered to a wider audience, a merger between companies like Comcast and Time Warner Cable might actually be approvable. However, we are not there today — that's why that deal was blocked.
On the other hand, a merger between Charter and Time Warner Cable is quite approvable. The companies will not claim the top spot, even after merging. However the deal will create a much larger and stronger No. 2 player.
This is much like what happened in the wireless industry over the last decade or two. After years of acquisitions, the two largest competitors today are AT&T Mobility and Verizon Wireless. However, as strong as these two are, Sprint, T-Mobile, US Cellular, C Spire, Tracfone, and others are still competing. Even Google is entering this space.
Cable Industry Could Collapse
The traditional cable television industry is under significant competitive threat for the first time in its history. It never faced this kind of industry-wide transformation before. And because cable companies never focused on taking care of their customers, they are now at significant risk of losing them.
The Charter, TWC deal will create a stronger company, but every competitor in cable television seems to be losing business to new players like AT&T, Verizon, CenturyLink, Netflix, Amazon.com, Hulu and other innovators.
The innovation will continue, going forward. That means the threat to traditional cable television will continue — so cable television either has to update or its days are numbered.
That's why we see Comcast Xfinity. We must see the same innovation from every cable television company going forward or the sector will continue to shrink. That is something I'm sure all cable companies want to avoid. However, we have not really seen Time Warner Cable, Charter, Cox, Cablevision or others updating as aggressively as Comcast.
There will be quite a bit of investigation and analysis to do in order to determine whether Charter and TWC should be approved, but at this point I would say the deal is approvable — and, in fact, it could happen quickly.