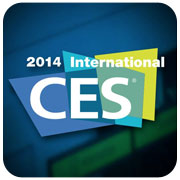 International CES 2014 in under way in Las Vegas this week, surprising and delighting us with all the innovation on display.
CES is a great place to see how wireless fundamentally changes and works its way deeper into the consumer electronics industry. That's been true year after year, and this one is no exception.
I use CES as a barometer. It helps me see where we've been, where we are today and where we are heading tomorrow. Some companies introduce new products; others talk about the future. Both are great aids in helping us think about what tomorrow will look like.
One Smartphone to Rule It All
Looking back 10 years, the wireless industry was always at CES. However, I often wondered why it was there. That was before the iPhone and Android smartphone revolution that have since changed the industry.
Things are different today. Today it's all about the smartphone being the remote control for our lives.
AT&T seems to be all over CES this year with loads of announcements, and T-Mobile is trying to be seen this year as well. Where Verizon and Sprint are in all this is anyone's guess.
In any case, it looks like we are once again in the early years of the next major smartphone revolution, and that is what's on display all over CES this year.
Today we don't leave the house without grabbing our smartphone, keys and wallet. Tomorrow we'll just have to remember the smartphone. Everything we need and use will be inside that device.
We'll be able to control everything from it, whether we are home or a thousand miles away. We'll use it to start the car, turn on the home alarm or open the front door. It will have our digital driver's license, auto insurance card, money and credit cards, photos and everything else we cram into our wallets today. It will even keep track of fitness and health and finances.
Automotive Opportunities
The automotive industry is already knee-deep into the wireless transformation. Most major carmakers are rapidly innovating and want to bite into this opportunity.
AT&T Mobility has made several big announcements so far at CES, and several of them have to do with the company's new AT&T Drive program, which aims to connect cars using AT&T 4G LTE.
For example, AT&T on Monday announced Drive and the Drive Studio connected-car center in Atlanta. It also announced that it had won a contract with GM previously held by Verizon Wireless. AT&T will provide 4G LTE connectivity to 10 Chevrolet cars by this summer.
On Tuesday morning, AT&T announced a similar deal with Audi of America. Later that day, it made another announcement with Tesla.
It seems AT&T is innovating quickly in this new automotive area. This is a new branding and growth opportunity and challenge for the auto industry, and in fact for many other industries as well.
A Transformative Force
Healthcare and retail are two other industries racing to transform with wireless. They were also at the show with very innovative ideas.
The exciting part is that companies, industries and in fact the entire economy will go through a major transformation over the next several years and beyond. So whether you are a worker or an investor, there is both a great opportunity and great risk, depending on the choices you make.
Wireless as an industry continues to grow and to change, including becoming a key component of many other consumer electronics industry segments. Wireless will of course continue to be about smartphones and apps going forward, but it's going to be about helping industry after industry transform themselves as well.
We are just at the very starting point for this new opportunity. The road will not be smooth — we'll see many winners and losers — but there's no doubt the transformation will continue.
That, of course, is what CES is all about. Enjoy!